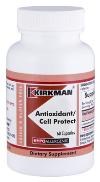 Antioxidants are an integral part of the disease fighting process and protect the body from dangerous free radicals that invade the cells and cause illness.
Portland, OR (PRWEB) October 01, 2013
Kirkman®, a manufacturer known for the purity of its nutritional supplements, has just released a new product, Antioxidant/Cell Protect – Hypoallergenic. Antioxidants are an integral part of the disease fighting process and protect the body from dangerous free radicals that invade the cells and cause illness.
This proprietary product is a comprehensive blend of powerful antioxidant nutrients, including vitamin A, vitamin C, vitamin E and selenium in a matrix of four of the strongest antioxidant compounds available, including coenzyme Q-10, lycopene, pycnogenol and resveratrol. Using this product along with your normal supplement regimen can provide excellent antioxidant activity and cell protection from free radicals. This product is offered in both the consumer line (4510-060) and professional line (6510-060).
As we breathe our body reacts to the oxygen activity causing highly reactive molecules known as free radicals to form. A free radical is a molecule missing an electron. These free radicals interact with the other molecules within the body's cells stealing their electrons and causing oxidative damage to proteins, membranes, genetic material and other cell components. Research shows that the oxidative stress caused by the creation of free radicals may be connected to many diseases including cancer, Alzheimer's disease and heart disease.
It is impossible to eliminate all damage caused by free radicals because there are both internal and external triggers for free radicals, but increasing the intake of antioxidants through nutritional supplementation could decrease the likelihood for certain diseases.
Pollution, sunlight, harmful chemicals, heavy metals and other environmental impurities can also trigger the production of free radicals. As with all products that Kirkman® manufactures (except lotions, creams and oils), Antioxidant/Cell Protect - Hypoallergenic is Ultra Tested®, which means that it has been purity tested for more than 950 environmental contaminants. No other nutritional supplement company in the world even comes close to Kirkman's purity testing standards.
Order Kirkman's new Antioxidant/Cell Protect – Hypoallergenic at:
Consumers: http://kirkmanlabs.com/ProductKirkman/757/1/Antioxidant-CellProtect-Hypoallegenic/
Professionals: http://kirkmandocs.com/index.php/kirkman-products/antioxidants-1/antioxidant-cell-protect-capsules-hypoallergenic.html
You can also call Customer Service at 800-245-8282 or (1-503-694-1600 for international calls.)
About Kirkman®
Kirkman® is the leading manufacturer of nutritional supplements for individuals with special sensitivities and dietary requirements. Founded in 1949, Kirkman® is also the oldest nutritional supplement company serving the special needs community. This experience has allowed Kirkman® to pioneer effective products in many areas of nutritional supplementation for individuals with special health needs. To learn more about Kirkman®, visit the company website at http://www.kirkmangroup.com.
Contact:
Kulani Mahikoa
V.P. Marketing
Kirkman Group, Inc.
Telephone: 503-694-1600