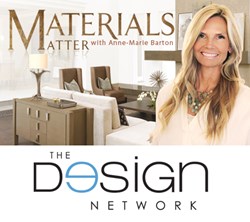 Anne-Marie's fun and inspirational approach to educating her viewers is in perfect alignment with the bevy of quality content coming to The Design Network this fall.
Jamestown, North Carolina (PRWEB) October 03, 2013
The Design Network is proud to announce its partnership with interior designer and owner of AMB Design Inc., Anne-Marie Barton, whose new video series 'Materials Matter' launches on TDN October 3, 2013.
In this multi-episode series, Anne-Marie takes her 'Materials Matter' viewers on a journey through the home, advising where they should spend more and where they can cut back when updating, remodeling or starting new construction. From hunting down the perfect, large-scale marble slab for kitchen and bathroom countertops to selecting the smallest knob, drawer pull or handle, Anne-Marie hopes to inspire her audience to spend time focusing on the finer details that will last in their homes. Showcasing examples from her vast portfolio, Anne-Marie provides tips for carefully selecting materials and offers advice about the world of options available in today's marketplace.
"Our homes tell the story of those who live there. It's our one chance to show who we really are and influence the way our families live," says Anne-Marie. "At the end of the day, every material matters."
As a past Spokesperson for the Pegasus line of Bathroom Products for The Home Depot and the first Super Guide for About.com hosting "How To" videos that teach viewers to redecorate bathrooms and kitchens, serve as their own contractors, develop meaningful holiday traditions and more, Anne-Marie is appreciated for her "grass roots" style of collaborating with all trades in order to create and oversee a comfortable, sophisticated, detail-enhanced home. With more than 200 homes to her credit, she has enjoyed residential, commercial and hospitality projects in California, New York City, Connecticut, Memphis and her home state of Utah. Her list of clients includes NFL Hall of Fame quarterback Steve Young, CBS sportscaster Jim Nantz, professional golfer Johnny Miller, and Oregon senator Gordon Smith.
"Anne-Marie's fun and inspirational approach to educating her viewers is in perfect alignment with the bevy of quality content coming to The Design Network this fall," says TDN Founder, Jason Harris. "By connecting experts and talented personalities like Anne-Marie with our core audience of home enthusiasts, and then providing them the two-way engagement and interactivity that only a broadband network can offer, we believe we are positioned to be the go-to resource for home design entertainment, inspiration and information that many viewers are looking for, but cannot find through traditional media like cable TV. We are excited to have a designer like Anne-Marie join the team and can't wait share her series with our TDN community."
About The Design Network:
Launched in January 2013 by home furnishings industry veterans Jason and Jeff Harris, The Design Network is a broadband, all-screens network that aligns the best designers, architects, furniture purveyors, video producers and home enthusiasts to offer inspirational, instructional and entertaining videos about home design and fashion. By serving on-demand content in a new, relevant and fresh way, and reaching home enthusiasts through a multitude of screens, anywhere at any time, the Design Network is an entertaining resource for design inspiration, expert advice and product information, as well as a growing, vibrant community built on a shared passion for all things "home."