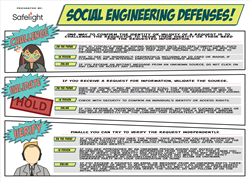 With a well-trained, information security-focused workforce your organization is armed with the greatest security protection available
Providence, RI (PRWEB) October 02, 2013
To kick off National Cyber Security Awareness Month, Safelight Security, a leader in security education, is offering enterprises two ways they can give their employees the tools to help protect information in their everyday work. With its Information Security Awareness Starter Kit, Safelight Security is making information security communications materials available via a free download, and is also providing its entire on-demand Application Security curriculum for free with the purchase of its new training course for all types of staff, Information Security & Privacy Awareness.
Enterprises can use Safelight's Information Security & Privacy Awareness communications materials, which include infographics, printable tips sheets and informative articles, to promote security awareness and enhance employee learning on topics such as how to recognize malicious email, the best ways to secure passwords and preventing malware infections and social engineering attacks. With Safelight Security's Application Security courses, enterprises can extend security training to the development team, helping them build more secure software at each phase of development.
"With a well-trained, information security-focused workforce your organization is armed with the greatest security protection available," said Mike Maziarz, chief executive officer, Safelight Security. "National Cyber Security Awareness Month is the perfect opportunity to provide all your people with the knowledge and tools they need to help protect against future threats. Our role-based training curriculum is the most comprehensive training platform available."
Safelight Security's Information Security and Privacy Awareness on-demand training features nine modules that help general staff, including human resources, legal, marketing, finance, sales, operations and customer service employees, easily understand the scope, nature and origins of the diverse risks to enterprise security. Each interactive module combines engaging instruction and interactive challenges to teach the proactive steps employees can take to protect information no matter what their role in the organization.
Using Safelight Security's Application Security training, architects, developers, QA testers and managers learn the fundamentals of secure coding principles, how attackers can exploit software vulnerabilities, and the methods of building security throughout the software development lifecycle.
October 2013 marks the 10th anniversary of National Cyber Security Awareness Month, a national public awareness campaign that encourages everyone to protect their computers, mobile devices, networks, data, and private information.
The Safelight Security Information Security Awareness Starter Kit is available through December 31, 2013. For more information about Safelight's on-demand and instructor-led courses for general staff, development teams and IT staff, visit the company's Education Programs page.
About Safelight Security
Safelight is a leader in security education—our integration of deep security expertise and innovative approaches to interactive learning sets us apart. We help organizations build comprehensive education programs that go beyond training to measurably shift the way employees think about the value of information and their role in protecting it. We offer a full range of instructor-led and on-demand courses for development, IT and general staff; each role-specific course is part of a larger program designed to cultivate a culture of security across the organization. Learn more at http://www.safelightsecurity.com.
# # #
Media Contact:
Kim Novino
knovino(at)safelightsecurity(dot).com