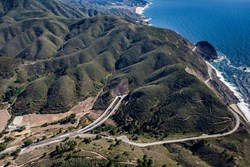 Of the five finalists, HNTB played a key role in three of them.
Kansas City, MO (PRWEB) October 01, 2013
When finalists for the 2014 Outstanding Civil Engineering Achievement award were announced on Sept. 20, 2013 by the American Society of Civil Engineers, HNTB Corporation's work on the nation's most complex infrastructure projects was well-represented. Of the five finalists, HNTB played a key role in three of them.

Tom Lantos Tunnels at Devil's Slide (San Mateo County, Calif.) – HNTB was lead designer on the project for the California Department of Transportation. HNTB worked closely with Caltrans to fully explore alternative designs and construction methods for the twin tunnels. Constructed beneath San Pedro Mountain using the New Austrian Tunneling Method, each one is 29 feet, 6 inches wide by 22 feet, 4 inches high and 4,265 feet long. The project lies along the active San Andreas Fault, with four inactive faults crossing the tunnels.
I-15 Corridor Expansion Project (Utah) – The I-15 CORE is a 24-mile reconstruction of Interstate 15, Utah's primary north-south corridor. This is one of the largest road construction projects in the state's history. As program management consultant to the Utah Department of Transportation, HNTB led the procurement strategy and was able to double the number of reconstructed miles, add three more interchanges and trim two years off the required schedule while staying within budget.
Huey P. Long Span Lift (New Orleans, La.) – In June 2010, a vertical-lateral move set two massive truss panels into place in the first of three lifts to widen the existing Huey P. Long Bridge. The huge metal trusses, which were designed to support the new traffic lanes, were constructed on the riverbank without permanent secondary bracing in place, something never attempted for spans of this magnitude. In addition, a unique temporary bracing and lifting system, working almost like a machine, stabilized, raised and moved the trusses into place. HNTB was construction engineer for phases three and four of the Huey P. Long project.
The winner of the OCEA award will be announced at the Outstanding Projects and Leaders Gala on March 20, 2014, at the Renaissance Arlington Capital View Hotel, Arlington, Va.
Established in 1960, the OCEA award annually recognizes the project that best illustrates superior civil engineering skills and represents a significant contribution to civil engineering progress and society.
HNTB Corporation is an employee-owned infrastructure solutions firm serving public and private owners and construction contractors. With nearly a century of service, HNTB understands the life cycle of infrastructure and addresses clients' most complex technical, financial and operational challenges. Professionals nationwide deliver a full range of infrastructure-related services, including award-winning planning, design, program delivery and construction management. For more information, visit http://www.hntb.com.