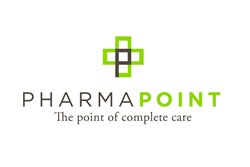 Birmingham, Alabama (PRWEB) October 01, 2013
PharmaPoint is proud to announce the launch of its newly designed website, logo and tagline. Each communication tool was created to solidify the company's brand identity and ensure brand integrity.
PharmaPoint's tagline - The point of complete care - encapsulates the message that the organization is a full-service pharmacy management company providing best-in-class solutions for pharmacy, medication adherence and patient readmission reduction.
"A PharmaPoint pharmacist works alongside the physician to 'close the loop' on the patient care process," said Brian Basik, Senior Vice President of Sales & Marketing for PharmaPoint. "A patient gets better by following the care plan outlined by their physician, which typically involves prescription medication. We not only fill prescriptions, but build a relationship with the patient to improve adherence to the total care plan."
PharmaPoint's website – http://www.pharmapointrx.com – outlines information about the company, the services provided for hospitals, physicians, municipalities and corporations, as well as news related to the company, pharmacy industry and clients.
"As PharmaPoint continues to grow, it is important for us to showcase out unique business model and establish a distinguishable mark in the industry," said Elizabeth Shelton, Director of Communications for PharmaPoint. "We are extremely excited about the future of our organization, and want to communicate our strengths in each message we deliver both internally and externally."
About PharmaPoint
PharmaPoint is an innovative pharmacy management company, providing best-of-class solutions for hospitals, health systems and physician groups. PharmaPoint is focused on completing the care continuum, thereby improving patient health and satisfaction, reducing healthcare costs and providing a source of ancillary income. Recognized as one of the most innovative, inspiring and fastest growing private companies for 2013 by Inc. Magazine, PharmaPoint is currently managing pharmacies across the United States. PharmaPoint is headquartered in Birmingham, Alabama. For more information about our company, you can visit http://www.pharmapointrx.com.