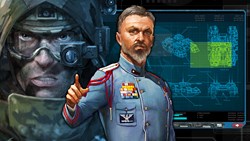 Machines at War 3 is a full featured game with an unprecedented 130 types of units to build, a full campaign to play through, and online multiplayer.
Tampa, FL (PRWEB) October 03, 2013
Machines at War 3 boasts an unrivaled 130 different types of units and technologies to build. In addition, a full single-player campaign is included along with Game Center multiplayer and random map skirmishes. Machines at War 3 reminds many gamers of Command and Conquer and Supreme Commander.
Using intense strategy and heart-pounding action, Machines at War 3 lets players battle and outsmart enemy forces as a military commander. RTS fans are joined by a fiery officer named Samantha Vice, who helps them maneuver through 21 intriguing campaign missions. The objective: Uncover why the country's secret research team - the Omicron Initiative - has disappeared.
Machines at War 3 is already available for Windows and Mac and received positive reviews noting its numerous types of units, variety of winning strategies, and ease of play.
"The number of units that can be created is staggering." - Armchair General
"An ultra-solid strategy game full of interesting features, large maps, and a wide array of game play situations." - Gamers Critic
Features:

Build over 130 types of units and technologies
Rescue the Omicron Initiative in 21 missions
Play unlimited random map skirmishes
Conquer friends in online multiplayer combat
REVIEW PROMO CODES AVAILABLE UPON REQUEST.
Release Date: October 2nd 2013
Platforms: iPhone 3GS or later, iPad 1 or later, iPod Touch
Price: $6.99 USD
Languages: English, German, Chinese, Japanese, French, Korean, Spanish, Portuguese, Russian, Italian
Trailer:
http://www.youtube.com/watch?v=3pbCLYDm6Ck
iTunes Link:
https://itunes.apple.com/us/app/machines-at-war-3/id646436754?ls=1&mt=8
Online Press Kit:
http://www.isotope244.com/press/sheet.php?p=machines_at_war_3
Press Contact:
James Bryant - press(at)isotope244(dot)com
Isotope 244 is an independent developer of games for iPad, iPhone, Mac, and Windows based in Tampa, FL USA. It was founded by James Bryant in 1999. Isotope 244 is best known for developing strategy and action games for both desktop and mobile devices. The company has received numerous awards for its real-time strategy and action games.
For more information, feel free to contact James Bryant at press(at)isotope244(dot)com.