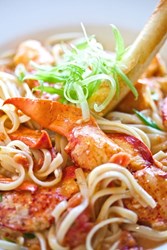 (PRWEB) October 02, 2013
At GetMaineLobster.com, lobster enhances everyday life, and its chefs are dedicated to providing customers with a wide range of lobster and seafood recipes, from hearty stews to healthier options. This week, GetMaineLobster.com has introduced a Paleo lobster recipe that is as delicious as it is healthy.
Ingredients for the lobster Paleo pasta include the meat of one whole Maine lobster per serving; Paleo pasta; two cups of green and yellow wax beans cut into one-inch pieces; olive oil as needed, and salt and pepper to taste. Ingredients for the sofrito include one diced red onion, one diced and seeded red pepper, one diced and seeded green pepper, two cloves of garlic, one-third of a bunch of chopped cilantro, four tablespoons of extra virgin olive oil, two tablespoons of lime juice, and salt and pepper to taste.
To prepare the sofrito, combine the onion, garlic and peppers in a food processor and pulse until a nice paste has developed, leaving some chunks for texture. While blending, add in the lime juice and then slowly add in the olive oil. Add in the cilantro and season to taste. It is best to let the sofrito sit for a few hours to develop flavor.
To prepare the Paleo pasta portion of the dish, bring a large pot of salted water to boil for the pasta and the wax beans. Blanch the wax beans in the boiling water for 30 seconds and transfer them to an ice bath to stop the cooking process. Bring the water back to a boil and add the Paleo pasta and cook as directed. In a large sauté pan over medium heat, add three tablespoons of the sofrito and toss in the lobster meat and wax beans to reheat. Once the pasta is ready, strain and add to the sauté pan. Toss everything together and season to taste with salt and pepper. Finally, portion out the lobster Paleo pasta into bowls, drizzle with olive oil and enjoy this healthy and delicious Paleo diet-approved lobster recipe!
Browse Get Maine Lobster's wide range of seafood offerings, access other healthy lobster recipes or view current specials by visiting GetMaineLobster.com or call (866) 562-.4817. Stay updated and Like us on Facebook or follow us on Twitter. For even more lobster news and recipes go to JustAddLobster.com.
About GetMaineLobster.com
GetMaineLobster.com, a division of Black Point Seafood and Black Point Gourmet, hand-selects the finest Maine lobster, seafood and beef products for convenient distribution throughout the United States. Their passion is to make fresh, quality seafood readily available to customers across the country, which is why they buy from only the most trusted, well-established suppliers to ensure that they receive the finest products available.
GetMaineLobster.com was selected out of the more than four million small American businesses served by Chase bank to represent its new Platinum Business Checking product for its 2013 national advertising campaign.