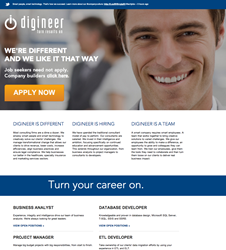 "Through our partnership, we can now offer employers creative, affordable, custom career websites to attract future employees"
San Francisco, CA (PRWEB) October 07, 2013
"We've learned that small and medium-sized organizations don't always have the resources or budget to create meaningful applicant experiences. Through our partnership with The Arland Group, we can now offer employers creative, affordable solutions to differentiate themselves and attract future employees," said Joel Passen, Newton's Head of Marketing.
The partnership marries The Arland Group's creative and employment branding expertise with Newton's applicant tracking system to provide small- to medium-sized businesses with affordable options to develop, design and launch a comprehensive career websites.
"It's our goal to give every business a level hiring playing field. We can do that through employment branding and creative and compelling career websites," Keith Seiz, The Arland Group's vice president of operations, says. "Now, by partnering with Newton, we can provide a complete candidate experience to any company, from Fortune 500 to a startup."
About The Arland Group
The Arland Group is a boutique creative and branding agency offering expertise through tailored business and consumer marketing campaigns, digital strategies, branding, advertising, event marketing, public relations services and professional athlete representation.
About Newton
Newton is a leading provider of applicant tracking software and hiring solutions designed to organize and improve internal recruiting programs for small and medium-sized employers (30-3000 employees). Newton Software was started in 2009 by recruiting experts with the goal of improving the hiring process for employers by delivering powerful products that are easy-to-use, easy-to -purchase and easy-to-activate.