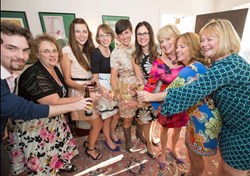 "We are committed to keeping our clients extremely happy and exceeding their expectations every day," says McCoy. "Everyone pulls together, excels professionally and has fun -- and that translates into amazing customer relations and magical results."
Philadelphia, PA (PRWEB) October 02, 2013
It was a quarter of a century ago when Susan McCoy put her daughter on the bus for first grade and opened the doors to IMPACT Marketing & PR in West Grove, PA.
Since its founding in 1988 the firm has transformed from a regional public relations agency to an international marketing firm known as Garden Media Group, specializing in the horticulture industry.
"It hasn't always been plants," says McCoy. "We cut our public relations teeth with clients like the American Mushroom Industry, Herr Foods and National Penn Bank. We were proud of our work in these fields, but that all changed in 1995 with our first horticultural client, The Conard-Pyle Company."
IMPACT Marketing's success with Conard-Pyle cascaded into further work with other gardening clients. McCoy made a strategic decision to focus exclusively on public relations for the lawn and garden industry, and Garden Media was born in 2002.
Garden Media has been creating and promoting lawn and garden rock stars ever since. In addition to Conard-Pyle, clients have included heavyweights such as Costa Farms, Suntory Flowers, W. Atlee Burpee, the Philadelphia Flower Show and Longwood Gardens.
The firm has helped launch such horticultural stars as The Knock Out® Roses, Endless Summer® hydrangeas and the new BrazelBerries®.
Amelie Brazelton of Fall Creek Nurseries, breeder of BrazelBerries®, raves of the team's work. "Garden Media is our public relations partner in the truest sense of the word," says Brazelton. "Suzi and her team have opened doors we never thought possible."
McCoy says focusing on horticulture has been one of the keys to the firm's success. Listed repeatedly as one of the top 10 public relations firms in the Philadelphia region, the agency is the national leader in the lawn and garden industry with an envied list of clients and contacts.
The firm's staff has worked diligently to earn top-notch clients from the United States, Japan, France, the Netherlands and Germany.
McCoy says she's extremely proud of the caliber of clients the firm represents, but feels Garden Media's greatest asset is the people.
"We are committed to keeping our clients extremely happy and exceeding their expectations every day," says McCoy. "Everyone pulls together, excels professionally and has fun -- and that translates into amazing customer relations and magical results."
Key among Garden Media's contributions to horticulture is the firm's annual Garden Trends Report©. First released in 2001, the Trends Report has become a necessary roadmap to guide breeders, manufacturers, growers, vendors, retailers and media to where and how they can best meet the consumers' future needs.
As the company moves into the 21st Century, McCoy has been joined by her daughter Katie McCoy Dubow. Headquartered in Kennett Square, PA, this dynamic mother-daughter duo has made Garden Media a one-stop resource for traditional and online marketing for industry leaders and emerging company stars — both nationally and abroad.
"It's been a great ride since I put Katie on that school bus 25 years ago, and I look forward to the journey ahead," says McCoy. "It's a true gift to love what you do."
Garden Media Group specializes in home, garden, horticulture, outdoor living, lawn and landscape industries, offering innovative PR campaigns designed to build brands, grow companies and secure partnerships.