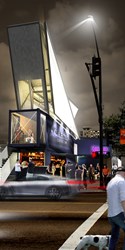 San Diego, CA (PRWEB) October 01, 2013
A team of recent graduates from NewSchool of Architecture and Design(NSAD) is raising money to help fund a project for downtown San Diego that has received public support from city officials and the community for their innovative approach to revitalizing vacant lots. The concept was developed at NSAD as a 2013 senior thesis project on "temporary architecture" solutions by Philip Auchettl, Jason Grauten, David Loewenstein and Mike Poage.
To learn more about the project, please visit their Kickstarter Page: RAD Lab – Urban Park in Downtown San Diego. The fundraising campaign ends Oct. 13. To get the word out, the RAD Lab team is also hosting a Kickstarter party Oct. 4 at BASIC, 410 10th Ave. in downtown San Diego's East Village from 5 p.m. to 7 p.m. The event includes a chance to win prizes and to meet the team in person, which includes new member Adam Jubela.
Envisioned with a lifespan of two to three years, the RAD Lab is a temporary "laboratory" urban infill project that offers sustainable solutions to vacant lots. The team of NSAD graduates envisions using retrofitted shipping containers to create an urban park in downtown San Diego's East Village area that will incorporate a dog park, outdoor beer garden, a plaza with food trucks and an event space for residents and visitors. They see it as being a template to revitalize other unused areas around the country. The project idea was developed during a class the students took at NSAD that was taught by Instructor Jorge Ozorno on "Architect as Developer."
Below are some selected links to news stories about this project:
KPBS-San Diego: San Diego Students Have Plans for Stalled Redevelopment Site
Voice of San Diego: Not All Neighborhood Development Projects Fuel Community Angst
About NewSchool of Architecture and Design
NewSchool of Architecture and Design (NSAD), founded in 1980, is located in San Diego, California. For the past two years, DesignIntelligence has ranked NSAD among the top 10 undergraduate architecture schools in the western United States in its publication "America's Best Architecture & Design Schools." NSAD is accredited by the Accrediting Council for Independent Colleges and Schools (ACICS), a national accrediting agency recognized by the U.S. Department of Education and the Council for Higher Education Accreditation. NSAD's Bachelor of Architecture, Master of Architecture and Executive Master of Architecture programs are accredited by the National Architectural Accrediting Board (NAAB). NSAD also offers a pre-professional Bachelor of Arts in Architecture, along with a Bachelor of Science in Digital Media Arts, a Bachelor of Science in Construction Management, a Master of Construction Management and a Master of Science in Architecture. The school's expanding global design education offerings include a new Bachelor of Interior Design program available in 2013–2014. For more information, visit http://www.NewSchoolArch.edu.