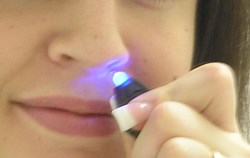 Care should taken when tinkering with the inner workings of viruses.
Fort Myers, FL (PRWEB) October 08, 2013
Eric Chen's winning entry in the 2013 Google Science Fair states, "The emergence of new highly lethal influenza viruses such as H5N1 and H7N9 poses a grave threat to the world. My project is to discover novel influenza endonuclease inhibitors as leads for a new type of anti-flu medicine, effective against all influenza viruses including pandemic strains. By combining computer modeling and biological studies, I identified a number of novel, potent endonuclease inhibitors. I also performed comprehensive structural analysis, laying ground work for further design and optimization of the anti-flu drug candidates."
Conversely, the body's own antibodies neutralize viruses without directly manipulating genetic mechanisms either by preventing them from combining with their host and alternatively disrupting their membranes.
In a possible foreshadowing, a 2011 paper entitled, "Bacterial Persistence by RNA Endonucleases" by Etienne Maisonneuvea, Lana J. Shakespearea, et al. they identified a particular antitoxin that acts directly on bacteria's endonuclease to make them resistant to antibiotics.
When first introduced, the world hailed antibiotics as miracle drugs. Today, there is a troubling and growing list of highly resistant bacteria, such as CRE, C. diff, and MRSA for which in some cases there is no treatment. These deadly strains of bacteria strike fear in healthcare providers and patients alike. The universal opinion is that the recent acceleration of deadly bugs is a direct result of the misuse and overuse of antibiotics.
The numerous ways that bacteria have found to become resistant to antibiotics reads like a Sherlock Holmes novel. Genetic change in bacteria can lead to increased production of the antibiotic's target enzyme so that there are too many of them and the antibiotics cannot inactivate them all. Alternatively, the bacterium may produce an antibiotic-inactivating enzyme.
This begs the question, if man starts toying with the inner workings of viruses what will be the consequence? Will a super virus be created?
Kevin McGuire, President of UV Technologies, and the first person to identify photo-oxidation as the body's first line defense against air-borne diseases states, "The best solutions to man's problems are usually found when first looking to nature. The very small number of flu and cold cases reported during summer months is living proof of nature's effectiveness in preventing airborne illnesses."
As a reward for winning Google's Science Fair competition, Eric Chen was awarded a trip to the Galápagos Islands made famous through Charles Darwin's work. Perhaps the experience will provide further insight for Mr. Chen.
About UV Technology, LLC:
UV Technologies, LLC's mission is to utilize nature's light to promote health and well-being. UV-Aid helps prevent colds, flu, sore throats, sinus and ear infections through the process of photo-oxidation. Hydrogen peroxide is produced in areas susceptible to infection. UV Technologies offers other innovative products for its customers to live a healthier and more productive life including iTanSmart, an app. designed to prevent sunburns and monitor sun exposure.