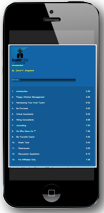 Every month, insight and advice for small business owners that are educational, entertaining, and inspirational!
Dallas, TX (PRWEB) October 03, 2013
SmallBIZ CEOs can now access cutting edge online audio tracks on the topics most vital to their success through a monthly audio newsletter prepared by small business expert and long-time business school faculty member, David P. Shepherd.
Shepherd has produced this audio newsletter for hundreds of his private consulting clients for almost a decade, but now, for the first time, the newsletter is available to entrepreneurs worldwide.
Subscribers may access the newsletter from any device (PC, tablet, phone, etc.) regardless of operating system or browser. They may listen online, or download the mp3 files for use in their iPod or other mp3 player.
SmallBIZ CEOs founder, David Shepherd, shared his excitement over the new product launch. "I guess I should have taken this to the public years ago," Shepherd said. "I've written three books, given conferences for thousands, and had hundreds of consulting clients, but there's no question that my audio newsletter has been their favorite way to receive advice, information, and inspiration!"
"I don't know what I would have done without the audio newsletter," said Carol Little, business owner from Roseville, CA. "It gave the advice--and the hope--to get me through the Recession, and is now guiding me trough a period of rapid growth."
As an academic and writer, Shepherd spends hundreds of hours reading and researching materials that small business owners simply don't have time for. He takes care that each article is well crafted, and recorded in a way that both disseminates valuable content, and creates a fun, addictive experience.
"When is the last time you saw someone at the gym, or on a plane... or even walking down the street without earphones?" Shepherd asked. "Everyone is listening to something in virtually every spare moment. Only now, they can use those moments to enhance the bottom line of their small firms and move toward my definition of success—the day they become financially independent."
Subscriptions to the SmallBIZ CEOs audio newsletter begin with a free, no-risk 30 day trial. There is no contract, no obligation, and Subscribers can cancel their own account at anytime with a simple click that they control. Free sample tracks are also available on the home page at http://www.smallbizceos.com.
"I don't know which I enjoy more, the incredibly deep insights, or David's comforting voice," said long-timer subscriber and North Carolina business owner, Tim Schelfe. "I used to save them up for family road trips and had to laugh out loud when my two kids started asking me to play them again! Now that's entertainment."
While most tracks on the audio newsletter are written and recorded by David Shepherd, SmallBIZ CEOs will soon introduce guest tracks by some of the most well-known and successful small business experts in the world.
Subscribers are also eligible to participate in the company's innovative Affiliate Program, should they choose to do so. For more information on the Affiliate Program, please visit http://www.smallbizceos.com and click on the "Affiliates" tab.
Listen to a free sample and begin your 30-day free trial today at http://www.smallbizceos.com.
About
SmallBIZ CEOs produces a monthly audio newsletter providing financial, marketing, and strategic advice for small business owners and entrepreneurs. The company was founded by David Shepherd, a long-time faculty member at the University of Texas at Austin, and an expert in small firm finance and strategy. Each month he focuses on the topics most vital to entrepreneurs such as cash flow, strategy, marketing, technology, trends, opportunities, and more. Many of the tracks (there are ten each month, ranging from 4 to 30 minutes) are drawn from Shepherd's research, case studies, consulting work, and books that few entrepreneurs have the time to read.