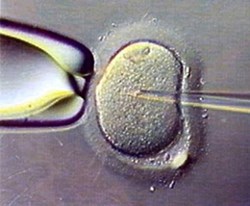 Each of our patients receives the time, care, and compassion we feel is critical when dealing with infertility. Nothing brings more joy to us than helping and supporting them through their journey,
Los Angeles, California (PRWEB) October 24, 2013
Reproductive Fertility Center is pleased to announce the opening of their new main office in Los Angeles. This new location, with its brand new, state of the art IVF laboratory, along with our additional locations in Santa Monica, Burbank, Diamond Bar and Riverside looks forward to serving new patients in the Los Angeles, Beverly Hills, Pasadena, Glendale and surrounding areas.
Dr. Peyman Saadat, Dr. Ira Blitz and Dr. Manda Ghahremani are highly honored physicians with outstanding achievements in all forms of fertility treatments with emphasis on in-vitro fertilization. The center's most current pregnancy success rate is 48% across all age groups, compared with the national average rate for clinical pregnancies of approximately 30%.
A graduate of USC Medical School, Dr. Saadat is Board Certified in Obstetrics and Gynecology as well as Reproductive Endocrinology and Infertility. He has received multiple awards and distinctions, including The Best Resident Teacher award at USC. In 2010, he was chosen as one of six out of 720,000 active physicians for the Patients' Choice Physician of the Year. Dr. Saadat has contributed to over fifty publications, which have had a significant impact in this field of medical research.
Dr. Blitz brings over forty years of medical experience to the practice. After earning his MD at UCLA Medical School, he worked as an OB-GYN at UCLA-affiliated hospitals and Cedars-Sinai Medical Center, and went on to become the Director of the Division of Reproductive Endocrinology and Infertility at Kaiser Medical Center in Baldwin Park. Dr. Blitz is a fellow at the American College of Obstetricians and Gynecologists and member of the American Society of Reproductive Medicine.
Dr. Ghahremani is certified by the Royal College of Physicians and Surgeons of Canada in Obstetrics and Gynecology and Reproductive Endocrinology and Infertility, and has a longstanding interest in classical reproductive medicine, as well as an interest in the environmental influence on reproductive health.
At Reproductive Fertility Center all the embryology procedures are performed on site in its brand new embryology laboratory. Our new location also includes a fully equipped ambulatory surgical facility. Within our all-inclusive, modern facilities, the IVF process becomes a comfortable experience.
The doctors and staff at Reproductive Fertility Center are known for their outstanding bedside manners. Kindness, empathy, and genuine care are some of the center's core values. Key staff members have had personal experience with IVF and overcoming infertility, which results in compassion and attention to both the physical and emotional needs of their patients. Patients are an extension of the center's family, and are treated with consistent, holistic care.
"Each of our patients receives the time, care, and compassion we feel is critical when dealing with infertility. Nothing brings more joy to us than helping and supporting them through their journey," says Dr. Saadat, the Medical Director.
Beyond traditional and mini or natural in-vitro fertilization, Reproductive Fertility Center offers an egg donation program, a surrogacy program, egg freezing, pre-implantation genetic diagnosis, and tubal ligation reversal-microsurgery.
Opened on September 12th, 2013 our Los Angeles office is located at 9201 West Sunset Boulevard, Suite 500, West Hollywood, CA, 90069. For further information please visit us at http://www.reproductivefertility.com.
In celebration of our new location, Reproductive Fertility Center is offering a 10% courtesy for all patients who sign up for a new single, traditional, IVF cycle between now and December 2013. This offer cannot be extended to cases that are billable to insurance.