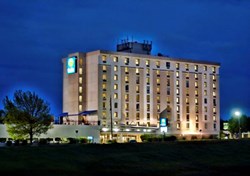 "Our services are designed to help all customers get the most out of our deals."
Little Rock, AR (PRWEB) October 11, 2013
Greenbee Parking, a leading airport parking service, has just announced a series of discounted deals and cheap LIT long term airport parking rates (http://www.greenbeeparking.com) for frequent travelers who regularly use the Little Rock (LIT) airport. The airport is one of the busiest in the state and one of the fastest growing in the country which indicates how busy it keeps round the year. Along with thousands of airlines taking off and landing from here, the airport connects with major destinations directly and is also a major freight hub. Increase in air traffic has naturally led to increase in ground traffic which includes not just travelers and visitors but also an increasing number of people employed by the airport and its peripheral businesses. There is simply no space to accommodate this kind of rush which is why private players like Greenbee Parking have arrived on the scene to help. They offer affordable and ample space for their customers, who no longer have to worry about reaching on time to get a good parking spot or the steep rates.
"Our services are designed to help all customers get the most out of our deals," said Christine Cooper – Marketing Coordinator, Greenbee Parking. "The cheap LIT long term airport parking rates will definitely lead to great savings for our long term customers who no longer have to wait for special deals or coupons to save money."
Bill and Hillary Clinton National Airport Parking Information
Bill and Hillary Clinton National Airport is the largest and busiest airport in the state of Arkansas and serves the state as well as the nearby regions of the surrounding states. It sees a passenger footfall of over 2.2 million every year, a figure which is all set to rise exponentially. 57 daily departures and direct connection with major cities makes it a very busy airport for its size. With the increase in airline business and traffic there has been a simultaneous rise of ground traffic and demand for parking which has been getting tough to avail in recent years.
The advent of service providers like Greenbee Parking has given a new lease of life to the whole parking issue for they not only offer ample parking space but also innovative parking deals and options. These deals come with cheap LIT long term airport parking rates which in turn leads to mega savings options for all long term customers of Greenbee. Now they can get secure spots and save on their travel budgets at the same time.
The Greenbee Airport Parking Solution
Greenbeeparking.com is the connection between consumers and parking vacancies in close proximity to major airports and seaports. The parking spaces are very affordable because the company has negotiated discounted rates with major hotel chains for the parking spaces that are not currently occupied. Here's how it works.
Greenbee Parking puts the available inventory of parking spaces on their website to be reserved by business and leisure travelers looking for cheap airport parking. This alternative method for finding parking equates to significant savings for the traveler.
About Greenbee Parking
Greenbee Parking is the nation's most innovative long term parking company, with a new way of making long term parking affordable. The company is rapidly adding new airports to its network.