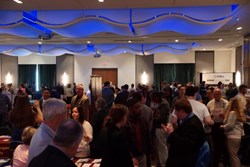 Mount Laurel, NJ (PRWEB) October 01, 2013
More than 400 military veterans and their loved ones ignored the lingering government shutdown and attended the GI Go Fund's South Jersey Veterans Job Fair for the at the Aloft Mount Laurel Hotel. The event included over 70 vendors from throughout the New Jersey/Philadelphia metropolitan area offering quality employment opportunities and support to the men and women who served our nation.
The veteran population was dealt an unnecessary blow today by the shutdown in Washington caused by a budget battle happening in Congress. The effects of the shutdown are significant. The Department of Veterans Affairs alone will furlough over 14,200 employees, more than half of whom work for the Veterans Benefits Administration, which could impact processing of the backlog claims. Moreover, most VA call centers would stop functioning in a shutdown, including the Veterans Benefits Administration education call center and the inspector general hotline. The VA's Board of Veterans Appeals will also make no decisions on claims appeals cases.
Compounding the problem are the spending cuts from the Sequester earlier this year, which have already had an extremely negative impact for military personnel and their families, leading to furloughed work days and the potential of significant job losses. This past week alone, the US Air Force announced that they are considering scrapping its fleet of KC-10 refueling jets, which could result in the loss of over 1,000 jobs at Joint Base McGuire-Dix-Lakehurst in Burlington County, and put the base at greater risk of being permanently closed.
"I am so disappointed," said GI Go Fund Executive Director Jack Fanous, whose job fairs have provided employment and benefits assistance to tens of thousands of veterans and their loved ones. "Our veterans have risked too much, their families have sacrificed for too long, just to watch as their Congressmen, who took the same oath for our country that they, prove that they are unfit to represent us. We are here to give those veterans the opportunity to have a voice; to show Congress that we can take care of ourselves, no matter how much they stand in our way."
GI Go Job Fairs have particularly set the standard for employment assistance to our current and former troops. Their previous south Jersey job fair in Atlantic City assisted more than 3,000 veterans and 150 employers.
In addition, the group hosts career workshops for military veterans to help them improve their resumes and job interview skills throughout the year, including this past Saturday at the Johnson & Johnson headquarters in New Brunswick. One veteran who attended that event was Isaac Trinidad, who took the skills that he learned from that day and brought them to today's job fair.
"There is a lot of opportunity here," he said. "I was able to get a lot out of the workshop the other day, and now I get the chance to show what I can bring to so many different employers. I really feel like I can find a job here."
The GI Go Fund is a nonprofit organization that has created positive change in the lives of thousands of our veterans. Among its chief accomplishments has been their work with Mayor Cory Booker to create an innovative partnership in Newark, NJ to help veterans find work and access needed healthcare, which has led to national recognition on ABC's reality show "Secret Millionaire" and the Fox Business Channel.