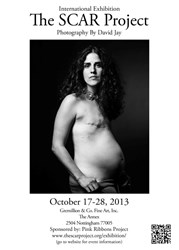 Breast cancer is not a pink ribbon.
Houston, TX (PRWEB) October 10, 2013
Pink Ribbons Project is proud to announce that the groundbreaking photographic exhibition created by fashion photographer David Jay, is set to premiere on Thursday, October 17 at Gremillion & Co. Fine Art, Inc., The Annex, 2504 Nottingham Rd, Houston, TX 77005: The SCAR Project: Breast Cancer Is Not A Pink Ribbon.
The SCAR Project is a series of large scale portraits of young breast cancer survivors shot by fashion photographer David Jay. The SCAR Project is an exercise in awareness, hope, reflection and healing. Presented primarily as an awareness raising campaign for young women, The SCAR Project's deeper message is one of humanity. Ultimately, The SCAR Project is not about breast cancer, but the human condition itself; the images transcending the disease, illuminating the scars that unite us all.
"The SCAR Project is a beautiful demonstration of the humanness of breast cancer, how deeply each is impacted by the disease," said Susan Rafte, Pink Ribbons Project Co-founder and breast cancer survivor. "The photographs capture not only the physical scars left by removing the cancer, but also seem to give a glimpse into the emotional damage, yet hope for survival in the subject's eyes. Pink Ribbons Project uses the arts in all that it does to raise awareness and money for breast health issues, so it perfectly matches our mission. We are honored to sponsor The SCAR Project."
The exhibition opens October 17, 2013 with a special evening reception hosted by The University of Texas MD Anderson Cancer Center. Invitation required. For information, please contact: events@mdanderson.org. The gallery will be open for public viewing of the exhibition October 18-28 (closed Sunday and Monday). Gallery hours are 10 am to 5 pm. Admission is free. A full listing of scheduled events can be found at: https://tockify.com/houston. A screening of the EMMY Award winning documentary about The SCAR Project: Baring It All will be shown at the Museum of Fine Arts, Houston on Monday, October 21, for more information on the screening, visit: http://www.mfah.org/films/baring-it-all/. While the exhibit is in Houston, David Jay is available for interviews and appearances, please contact Lauren Culpepper to set a time: 843-319-4363.
Sponsored by: The Pink Ribbons Project, which uses the arts in everything they do because it reaches people at the level of personal vulnerability and moves them to action in a way that other approaches may not. Pink Ribbons Project helps those touched by breast cancer through education, awareness and outreach programs. The organization helps underserved women receive breast cancer screening and follow-up care through services at clinics and mobile mammography units throughout the Greater Houston area. To become a Pink Partner and for more information about Pink Ribbons Project's many programs, call: 713.524.PINK (7465) or visit: http://www.pinkribbons.org.
Special thanks to: Gremillion & Co. Fine Art, Inc. for donating the space and a special thanks to Kathy Hathorn, American Art Resources.
For more information on The SCAR Project, visit the website: http://www.thescarproject.org/exhibition and http://www.thescarprojectblog.com. Follow @thescarproject on Twitter and Facebook.