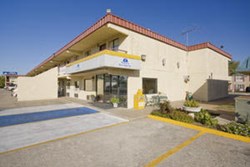 We are constantly trying to come up with deals and offers which will help us serve our clients better.
Tulsa, OK (PRWEB) October 14, 2013
Greenbee Parking, a growing airport parking service, has just announced that Americas Best Value Inn will be their new business partner in Tulsa. Travelers who frequently use the busy Tulsa (TUL) airport can now rest easy about airport traffic and last minute parking hassles, because now they can book a space at the Inn, arrive in leisure, secure their vehicle and then take the shuttle to the airport nice and easy. No more fretting about traffic, battling the airport parking race, almost missing flights and worrying about their cars which they had to leave behind in distant and unsafe corners of the airport. It is a bonus for those travelers who want a more secure location for their vehicles and want to park them away from the general airport hubbub. The best thing is that they don't have to book a room at the Inn to park there because as Greenbee's customers they will get a warm welcome and opportunity to park easily and that too at very affordable TUL long term airport parking rates (http://www.greenbeeparking.com/OKLAHOMA/TUL).
"We are constantly trying to come up with deals and offers which will help us serve our clients better," said Christine Cooper – Marketing Coordinator, Greenbee Parking. "Our partnership with Americas Best Value Inn in Tulsa will now allow us to offer better parking spots at very secure locations and away from the airport traffic and congestion. We are happy that we can offer these advantages at inexpensive TUL long term airport parking rates which can beat all rival offers hands down."
Tulsa International Airport Parking Information
Tulsa International Airport is a very busy airport which sees a high volume of business as well as leisure travelers round the year. The "Oil Capital of the World" naturally is home to major oil and natural gas companies and the past few years have also seen a rise in several renewable energy companies in the area. As a major resource and energy hub it sees a lot of business travel which significantly adds to the airport's business. While the increase in airport business is great news for the local economy it has its downsides as well. Increasing traffic congestion in and around the airport and resultant parking crisis has added to the chaos around the airport. It does not reflect well for the authorities who have been desperately trying to overcome restricted budgets and rectify the situation.
For them as well as the travelers, the advent of Greenbee Parking and their partners like Americas Best Value Inn have been a boon. They have landed in the deep end but have come up as winners with their great deals and innovative parking options which they offer at TUL long term airport parking rates ensuring safety and savings at the same time.
The Greenbee Airport Parking Solution
Greenbeeparking.com is the connection between consumers and parking vacancies in close proximity to major airports and seaports. The parking spaces are very affordable because the company has negotiated discounted rates with major hotel chains for the parking spaces that are not currently occupied. Here's how it works.
Greenbee Parking puts the available inventory of parking spaces on their website to be reserved by business and leisure travelers looking for cheap airport parking. This alternative method for finding parking equates to significant savings for the traveler.
About Greenbee Parking
Greenbee Parking is the nation's most innovative long term parking company, with a new way of making long term parking affordable. The company is rapidly adding new airports to its network.