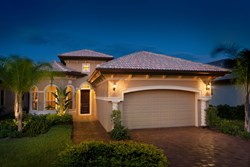 Fort Myers, FL (PRWEB) October 09, 2013
Stock Development has begun construction on two new furnished models within Hidalgo Court in Phase II of Esperanza at Paseo.
Hidalgo Court offers an exclusive 15 lakefront and preserve front homesites within a quiet cul-de-sac nestled in the center of Esperanza, which is accessed via a richly landscaped entry bridge directly across from Paseo's spectacular Village Center. It consists of approximately 100 acres in the northern phase of the community and is completely encircled by the pristine environment of the Six Mile Cypress Slough.
The Heirloom Series homes were designed by Stock. A total of four plans are available, ranging from 1,809 to 2,075 square feet under air. Two and three bedrooms and up to three baths are found in the floorplans, which include designs to fit any lifestyle.
The single-family San Remo III is a two-bedroom, two-bath great room-style home that features a gourmet kitchen, a dining room, a study, an expansive screened covered lanai and an attached two-car garage. The formal study is convertible to a third bedroom. The home offers 1,809 square feet under air and is a total of 2,636 square feet including the lanai, garage and the covered entry. Norris Furniture will be completeing the interior design for the home.
The Tivoli III is a three-bedroom, three-bath great room-style home that features a gourmet kitchen, a breakfast nook, a formal dining room, a study, a screened covered lanai and a two car garage. The home offers 2,062 square feet under air and is a total of 3,057 square feet including the lanai, entry and garage. Cherie Clark will be responsible for the interior design of the new Tivoli III.
The homes of Esperanza feature extraordinary standard amenity packages. The Heirloom Series homes include Corian countertops, oak cabinets with 36-inch uppers and GE appliances. Corian countertops oak cabinets are also found in the bathrooms. The master baths feature 5-foot soaker tubs and a separate shower. Prices begin in the $320s.
Two additional series of homes are available in Esperanza. The new twin villas are available in The Coronado, a two bedroom/two-bath plan with 1,575 square feet under air, and The Granada, a three-bedroom three-bath design with 1,891 square feet of living area. Traditional Series homes are available in seven floorplans of three and four bedroom designs ranging from 2,273 to 3,158 square feet under air.
Residents of Esperanza are located a moment's stroll from Lee County's finest amenities. In 2012, Paseo won its 7th consecutive Community of the Year Award from the Building Industry Association.
The Paseo Village Center includes a full-service concierge, a bistro, an ice cream parlor, a pub, an internet café, a coffee shop, a 4,000 square foot fitness center, a business center and library, as well as spa services and a 90-seat theatre with a projection room and comfortable elevated seating.
Paseo has furnished models open for viewing in Phase I, including flats, townhomes, casitas and single-family models open in Esperanza. Numerous homes are available for immediate occupancy. Prices at Paseo begin in the $160s.
The sales center is located at 11940 Palba Way Ft. Myers, FL 33912. From Daniels Parkway, one-half mile west of I-75 at exit 131, turn north on Palomino Lane. After 1.5 miles turn left on Penzance Blvd. Paseo's gated entry is one-half mile ahead on the right. Visit the community on the web at http://www.paseo-ftmyers.com for more information or call (239) 425-6777.