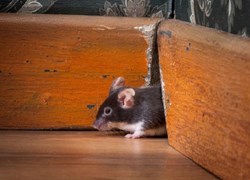 Rodent control and exclusion should be your number one fall priority.
Parsippany, N.J. (PRWEB) October 03, 2013
When the seasons change, fall pests start making their way inside homes for shelter, while summertime bugs, like flies and stinging insects, linger around the home. Experts from Western Pest Services, a New Jersey-based pest control company, list the top five pests homeowners in the Mid-Atlantic and Northeast should be on the lookout for this fall.
1. Rodents
Rodent control and exclusion should be your number one fall priority, as mice and rats seek a warm place for winter. Walls, closets, pantries and attics are inviting spaces for these pests. Conduct a thorough exterior inspection of the home for gaps and holes where rodents may enter, and be on the lookout for droppings and gnaw marks, which can indicate an infestation.
Species to watch for: deer mice, house mice, Norway rats, roof rats, white-footed mice.
2. Flies
Fly populations tend to be at their height in early fall because they have had all year to increase their numbers. As temperatures drop, some flies look for a retreat inside homes from the cool weather outside. The south- and west-facing walls of your home may attract flies in search of heat. If those flies are already overwintering, a warm day may bring them out of hiding. It's important to remember that some flies can cause bigger problems than just irritating buzzing; they have the potential to carry diseases such as tuberculosis, typhoid, dysentery and diarrhea.
Species to watch for: cluster flies, fruit flies, house flies.
3. Stinging Insects
As fall approaches, stinging insects such as yellow jackets and other wasps can be quite active. After working all summer to create the largest nest possible, it becomes a struggle to feed so many mouths with temperatures dropping and food sources dwindling. Under these circumstances, the colony can become hostile. Attempting stinging insect control yourself can be dangerous. If you think you have found a nest, take caution and call a pest management professional or beekeeper for help.
Species to watch for: yellow jackets, honey bees.
4. Ants
Cool autumn weather may bring ant trails indoors. Ants sometimes move their colonies into the walls of the home or beneath a slab of foundation to escape the chill. Effective ant control is about locating the nest and preventing ants from getting inside. A professional can help devise an ant control solution that is faster, more effective, and less reliant on pest control materials than a DIY approach may be.
Species to watch for: carpenter ants, pavement ants, odorous house ants.
5. Occasional Invaders
This time of year can include a bevy of unique fall insects, commonly referred to as occasional invaders. This includes stink bugs, box elders and ladybugs. These pests enter homes in search of overwintering sites where they can wait out the winter. While these insects typically do not cause structural damage, they are generally considered a nuisance.
Species to watch for: stink bugs, lady bugs, box elders.
"Taking proactive steps can help reduce the presence of overwintering pests and position you to be better prepared to combat pests when temperatures warm," says Hope Bowman, technical specialist for Western Pest Services. Bowman recommends taking the following proactive steps:

Seal gaps around windows and doors, including garage doors.
Be sure screens on windows are in good repair and do not have any openings.
Seal gaps around the area where pipes and electrical/cable lines enter the home.
Look for openings around soffits, eaves, attic fans, windows and vents in the attic used for ventilation. Many times these areas are not screened, allowing overwintering pests inside.
Inspect chimneys. Be sure the damper is closed when not in use. If your home has a wood-burning fireplace, lighting a fire may discourage the insects from using the chimney as an entry point.
"If insects have already entered your home, the best way to eliminate them is with a vacuum. Remove live and dead bugs with the vacuum, empty the vacuum bag and be sure to dispose of the garbage to ensure live insects do not have access to the house," says Bowman. "Contact a pest management professional if problems persist."
To learn more about fall pest threats, visit http://www.westernpest.com.
About Western Pest Services
Founded in 1928, New Jersey-based Western Pest Services provides quality pest control to residential and commercial customers with services including termite control, bed bug detection and extermination, stink bug control, mosquito control and home protection plans. Serving the Northeast and Mid-Atlantic United States, Western is a wholly-owned subsidiary of Rollins, Inc. (NYSE: ROL). Learn more about Western by visiting http://www.westernpest.com. Connect with Western Pest Services on Facebook and YouTube, or on Twitter @WesternPestSrvc. Learn more about Rollins by visiting http://www.rollins.com.