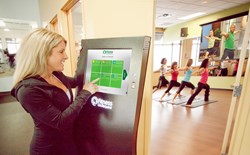 Fitness On Request offers facilities of all sizes and budgets an opportunity to offer more programs, more often, to engage more people than ever before.
Minneapolis, Minnesota (PRWEB) October 03, 2013
Minneapolis-based fitness technology company, Fitness On Request, was recognized by Inc. Magazine this year as one of America's fastest growing companies, ranking #353 among U.S. companies and #6 within Minnesota. Inc. Editor Eric Schurenberg says of the Inc. 500 companies, "In their fields, they are as famous as household name companies simply by virtue of being great at what they do. They are the hidden champions of job growth and innovation and the real muscle of the American economy."
Fitness On Request was founded in 2008 as a way to make group fitness a more flexible and convenient offering in health clubs through video-based programming and online management software. With their programming, facilities can offer unlimited classes at all hours of the day and night. In the past three years, the company experienced growth of over 1200% delivering over a million class plays in facilities worldwide.
The innovative system includes four hardware components: a touchscreen kiosk library that houses more than 100 pre-recorded fitness videos, paired with a high-definition projector, speakers and 120+" screen that together transform video-based fitness into an engaging, life-size, group experience. Their class offerings include proprietary programs by Elements Fitness™ as well as partner brands such as Jillian Michaels, Virtual Active and Zumba Fitness®.
Co-founder Dave Kraai is thrilled with their company's Inc. recognition. "This is truly a team award. Our staff strives incredibly hard to serve our customers and clients, and live the mission of being the world's most convenient fitness experience." Since the start of 2012, the company's employee base multiplied by almost 200% as their company grew to serve over 1,000 facilities. Kraai says, "It never gets old for me walking into a meeting to find out that that we've run out of chairs and need to find a bigger meeting area. We've had to hold our past three staff meetings in the warehouse!" Every month, over 150,000 people hit play to initiate a Fitness On Request class.
Beyond providing a jaw-dropping audio-visual experience, Fitness On Request's cleverly designed management software makes their solution attractive to business owners of all kinds. Vice President Jason Campana comments on how this solution is catching the interest of business operators outside of the fitness industry. "Interest is picking up very quickly in a number of different industries because of the unlimited offerings it can provide in exchange for comparatively fewer resources of staff, time, money, and energy. It's a business savvy way to conserve resources without compromising on value, and simultaneously equipping sales and marketing with a powerful differentiator." Fitness On Request's auto-start scheduling, user reservation and real-time reporting features convert what traditionally is a complex management puzzle into a group fitness program that can essentially run on auto-pilot.
What implications does Fitness On Request have for the future of group fitness? Campana predicts that "Video-based solutions will never take the place of a live group fitness experience. What it will do is provide facilities of all sizes and budgets with an opportunity to offer more programs, more often, to engage more people than ever before. Our solution is attracting under-served and unlikely participants into the world of group fitness, and traditional group fitness programs will continue to reap the benefit of this movement alongside us."
About Fitness On Request:
Fitness On Request was founded in 2008 by two health clubs owners and an audio-visual expert who saw a need in the industry for more flexible and convenient group fitness programming. Since inception of the original concept, Fitness On Request has evolved from being a simply video playback device to a sophisticated studio space management tool and industry leading content provider. Fitness On Request's online management software and library of 100+ pre-recorded classes allows facilities to offer unlimited group fitness classes simply and affordably. In 2013 Fitness On Request announced partnerships with leading content brands such as Jillian Michaels, Zumba Fitness® and Virtual Active as well as the release of new hardware and software capabilities. Fitness On Request's staff contains a mix of highly dedicated group fitness and technology experts dedicated to giving facilities the best return on their group fitness program investments.