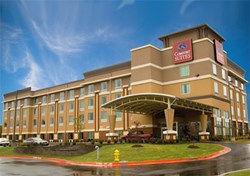 "We are hoping our efforts will be recognized....and customers choose to park with us."
Bentonville, AR (PRWEB) October 19, 2013
Greenbee Parking (http://www.greenbeeparking.com), a rising new airport parking service, has hopes of becoming one of the preferred service providers for airport parking near the Bentonville airport. They will welcome reviews from their customers and strive to have the best Bentonville Airport Parking reviews. Greenbee has come up with a new service that allows customers to use hotels in the area for parking, giving an alternate choice to the value seeking traveler. Greenbee charges about 35% less per day at their partnering hotel facility and have a "one-time" small service fee per booking...so the longer one books the more savings they could see. With the tailored deals taking care of their parking needs and that too at such affordable rates, Greenbee hopes to become a popular choice in the long run for customers in Bentonville looking for affordable airport parking. Greenbee has a goal to give a choice to travelers and do something positive for the environment.
Parking at the airport is also convenient for travelers; however, having a choice is a good thing. Greenbee parking in no way partners with Bentonville XNA airport, they are a separate entity that is giving a wonderful value to the traveling consumer.
"We are hoping our efforts will be recognized throughout time and customers choose to park with us," said Christine Cooper – Marketing Coordinator, Greenbee Parking. "We are now more determined than ever to come up with more innovative parking deals and options so that we can serve a wider range of clients."
Northwest Arkansas Regional Airport Parking Information
The Northwest Arkansas Regional Airport may be a mid-sized airport but it keeps busy round the year. One reason for this is perhaps the wide range of counties it serves which includes Benton and Washington and their adjoined regions. Along with these places the airport also serves the cities of Bentonville, Fayetteville, Rogers, Siloam Springs and Springdale. This entire region is slated to be one of the fastest growing business districts of the country which means a steady flow of business travelers round the year. Added to this is the high volume of tourists who flock to the natural scenic wonders of Arkansas which boasts off all kinds of terrains from the rugged mountains, deep forests, gurgling rivers, spectacular waterfalls and acres of untamed wilderness. Every season has something to offer which means that unlike other states which see seasonal tourists, here they are traveling in and out of the state round the year. Greenbee parking will continue to strive in its efforts to give the value seeking traveler an option for Airport Parking discounts.
The Greenbee Airport Parking Solution
Greenbee Parking has effectively bridged the gap between parking problems and solutions at both airports and major seaports. They have joined up with major hotels and parking facilities for available parking spaces at discounted rates which they offer their customers across the nation who can now save up to 75% off their parking costs.
All travelers need to do is visit Greenbeeparking, select their city or airport of choice, choose the parking spot and pay through a secured payment gateway. There is a comprehensive list of airports and parking spots to choose from. Greenbee's wide network makes it possible for every customer who logs in to find a solution.
About Greenbee Parking
Greenbee Parking is the nation's most innovative long term parking company, with a new way of making long term parking affordable. The company is rapidly adding new airports to its network.