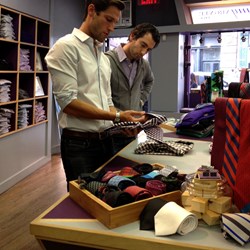 "I've worn a lot of different brands, and it's hard to find a better fit than Jeremy Argyle. The shirts are a must-have. I wear them daily and incorporate them in my TV wardrobe," said Andrade."These new shirts we're working on will look and feel great."
New York, NY (PRWEB) October 02, 2013
As if putting out a new shirt design every week wasn't enough, Jeremy Argyle, named "Best of New York for Men's Shirts" by New York Magazine, will release two special edition shirts. The first of which launched on Monday, September 30th and the second will follow soon after. Working in collaboration with GQ Latin America's Man of the Year, Pedro Andrade, the shirts will be sold for a limited time with only 125 to be made. Once they're gone, they're gone.
As seen on NBC's Manhattan Connection and broadcasts available in New York cabs, PATH Trains, and numerous airlines, Andrade makes for a perfect fit to showcase Jeremy Argyle's stylings. "Starting out as a model, I've worn a lot of different brands, and it's hard to find a better fit than Jeremy Argyle. The shirts are a must-have for me that I wear them daily and incorporate them as part of my TV wardrobe," said Andrade. "These new shirts we're working on will look and feel great."
Since its inception, Jeremy Argyle is known for creating high quality cotton shirts that work with suits, jeans and just about everything in between. The shirts are cut to the perfect length and are made to look great tucked or un-tucked, buttoned down or not. "We consider each shirt style to be a reflection of our customers' evolving tastes and continue to design the shirts to tailor to our many customers in the US and around the globe. Collaborating with Pedro really allows us to approach this goal from a new angle," said Brian Guttman, founder of Jeremy Argyle NYC.
Keeping a close ear to his customers, Guttman, the company's chief designer, can usually be found at his flagship store in SoHo. Opened in 2009, visitors to the 160 Spring Street location aren't limited to browsing through the company's ever changing line of shirts. A variety of classic sweaters, colorful ties, and accessories are available both in store and online.
You'll be able to see more of Andrade and the Jeremy Argyle brand towards the end of October. Andrade is set to co-host The Morning Show on ABC's new Fusion network which is set to launch on the 28th. Referencing Guttman's middle name and hometown street address, the Jeremy Argyle brand was created to cater to the modern multifaceted businessman and discerning male.
For more information, visit http://www.jeremyargyle.com.
Facebook: https://www.facebook.com/pages/Jeremy-Argyle/110405771487
Twitter: @JeremyArgyle
Instagram: @JeremyArgyle