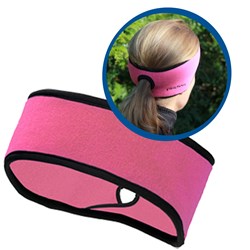 Kent, CT (PRWEB) October 02, 2013
TrailHeads put together a new collection of products known as its "Pink Trails Collection" to benefit The Breast Cancer Research Foundation (BCRF). TrailHeads unveiled the collection in recognition of National Breast Cancer Awareness Month, announcing that 10 percent of all sales made from the "Pink Trails Collection" will be donated to BCRF. Donations will continue past October and run throughout the year in support of the research fund, which focuses on finding a cure for breast cancer and raising public awareness about good breast health.
TrailHeads "Pink Trails Collection" was compiled in an effort to help BCRF blaze a trail towards a cure. The collection features a range of existing TrailHeads styles, including the popular Goodbye Girl Ponytail Headband, a fleece winter headband with a signature "ponytail loop" that allows women to secure their ponytail while wearing it. Items like running gloves, tops, and hats are also included in the collection. Every style featured has pink in its design, though several can be purchased in a range of other colors.
TrailHeads supports all women who pursue an active lifestyle and fitness program as part of their quest to defeat breast cancer. A large part of the culture at TrailHeads is about giving back. The Breast Cancer Research Foundation is one of several charitable causes supported by TrailHeads.
The "Pink Trails Collection" can be found online at shop.trailheads.com.