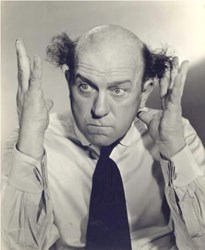 The Kennedy series was one of the most durable in the field of short subjects. It had the secret ingredient to all good comedy: it was basically real, no matter how far out the gags. - Leonard Maltin
Medford, Oregon (PRWEB) October 03, 2013
Producers Bob Campbell (Bijou Productions) and Ron Hall (Festival Films) have been finding and packaging old movies for modern audiences since the birth of home video. When the two learned they shared a passion for Edgar Kennedy, a crusade began to unearth and share his 103 hilarious comedy gems that had truly been lost to the public for generations. The quest has culminated in the ambitious Kickstarter campaign currently underway.
Edgar Kennedy is best known today as the bald-headed comedian from countless encounters with Laurel & Hardy, Charlie Chaplin, Our Gang and The Marx Bros, but Edgar was also truly America's first "sitcom" star. He played himself in 103 RKO comedy shorts known as the "Average Man" series made between 1931 and 1948. In each short, Edgar is surrounded by a zany dysfunctional family complete with eccentric wife, meddling mother-in-law and shiftless brother-in-law. The domestic sitcom plots like Edgar losing his job, mistaken identities, fixing something himself, and the family running a gas station set the stage for "The Honeymooners," "I Love Lucy," and all that followed.
Believing that 35mm master prints for Kennedy's RKO shorts were long lost, Campbell and Hall had tracked down high quality 16mm prints to package and release in a series. Recently they discovered that many of the original negatives did survive after all in a privately-owned collection stored at the Library of Congress since 1966. Working with the 35mm owner, a plan for restoring and releasing all of Kennedy's RKO shorts soon evolved. Each new film transfer to high-def will be put into an episode of "The Edgar Kennedy Show." The 18-minute shorts will be turned into half-hour shows with the addition of mini-biography and behind-the-scenes segments documenting Edgar's remarkable film career in over 400 shorts and features.
The Kickstarter campaign currently underway seeks just enough crowd-funding support to create the "Pilot" episode of "The Edgar Kennedy Show." For the pilot, Edgar's grandson, Mark Kennedy, will introduce his grandfather in the earliest surviving short in the RKO series "Thanks Again" (1931) in which the family repairs an airplane that flies out-of-control with Edgar at the throttle in the climax. The mini-bio segment will discuss the birth of the "Average Man" series.
The completed pilot episode will be pitched to Turner Classic Movies, PBS and other potential broadcast and home video partners to seek worldwide distribution. "Edgar has lots of fans across the pond where they know him from the Mack Sennett and Hal Roach comedies and especially Laurel & Hardy and Our Gang," said producer Campbell. "He also acted in features with Clark Gable, Doris Day, Carole Lombard, Janet Gaynor, John Wayne, Gene Kelly, Harold Lloyd and other stars of Hollywood's golden era."
Several distinguished film historians have joined Team Edgar and are working pro bono as consultants to help accurately and respectfully honor Kennedy's film legacy. Film and TV composer Charlie Barnett has even contributed an original series theme song. All involved are waiving traditional fees and salaries to create the pilot show on a modest, cost-only budget.
According to producer Hall, The Edgar Kennedy Show concept of restored shorts with mini-bios has the potential to introduce contemporary audiences to comic legends like Charley Chase, Laurel & Hardy, Our Gang, Harry Langdon, Thelma Todd, Leon Errol, Andy Clyde, Clark & McCullough and Joe McDoakes. "We are well aware that the rights to many of these comedies are tied up, but which rights-holders wouldn't want to find a modern audience for films in their archives?" said Hall.
Producers encourage anyone interested in helping get the ball rolling on the restoration and release of RKO's Edgar Kennedy Average Man series to visit Kickstarter and pay their respects to Edgar.
"The Edgar Kennedy Show" is coming soon from Medford, Oregon-based Bijou Productions, the creators of the original 1980s hit PBS series Matinee at the Bijou, and Minnesota-based Festival Films, distributor of classic film content since 1976.