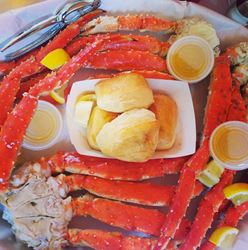 Juneau, Alaska (PRWEB) October 01, 2013
October is National Seafood Month, which means there's no better time to enjoy the abundance of sustainable seafood from Alaskan waters. This year, the Alaska Seafood Marketing Institute (ASMI) is celebrating with the inaugural "Show Us Your Alaska Seafood" Instagram photo contest. Seafood lovers from across the country can show off their culinary skills by preparing a dish with Alaska seafood, snapping a picture, and then tagging it with #alaskaseafood and @alaskaseafood. Running from October 1 to October 28, the contest is open to both amateur and professional photographers. The creator of the best photo will be announced by November 7 and will take home a GoPro HERO3 camera and a winter's supply of seafood!
"We're so excited to see what people are creating with Alaska seafood! Fishing in Alaska is all about community, and we love to connect with our supporters," said Lilani DeLateur, ASMI marketing representative.
With 34,000 miles of coastline—more than the rest of the country combined—Alaska provides over half of the nation's catch each year and more than 90% of North America's wild salmon. Always wild, natural, and sustainable, Alaska seafood is prized for its unparalleled flavor.
Complete contest rules can be found at http://instagram.alaskaseafood.org/
About Alaska Seafood
The Alaska Seafood Marketing Institute (ASMI) is a partnership of the State of Alaska and the Alaska seafood industry. ASMI works to promote the benefits of wild and sustainable Alaska seafood and offer seafood industry education.
For more than 50 years, Alaska has been dedicated to sustainable seafood. We're proud of our leadership in sustainable management, which has led to an ever-replenishing supply of wild seafood for markets around the world. For more information, please visit http://www.alaskaseafood.org.