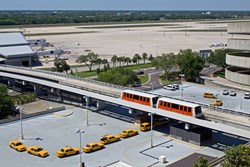 "We ant all customers to enjoy the benefits that we offer."
Tampa, FL (PRWEB) October 18, 2013
Greenbee Parking, a growing airport parking service, has announced that all travelers using the busy Tampa (TPA) airport are eligible for their cheap TPA airport parking rates (http://www.greenbeeparking.com/FLORIDA/TPA) and easy parking options. Tampa is one of the busiest airports in the country because it sees a huge influx of tourists round the year by virtue of its location, which is amidst and around the finest scenic splendors of Florida. It makes an easy landing pad for those tourists who want to access these regions and get to their destinations faster. It also serves as an alternate gateway to several tourist destinations in the Caribbean's and Bahamas which adds to the passenger footfalls. The rush and the increase in business have resulted in increase in ground traffic and demand for airport traffic expansion. The advent of professional services like Greenbee Parking has completely changed the parking scenario here. Now travelers can get secure parking spots easily and that too without paying the steep rates that they have to pay other providers.
"We want all customers to enjoy the benefits that we offer," said Christine Cooper – Marketing Coordinator, Greenbee Parking. "The new deals and cheap TPA airport parking rates will ensure that along with our long term customers, even travelers who book a space for a shorter duration saves a bundle."
Tampa International Airport Parking Information
Tampa International Airport is a very busy gateway which witnesses over nine daily flights taking off and landing from here, making it the 31st busiest airport in North America. It is a convenient airport to connect with and is directly linked to more than 75 major destinations across the country and the world, which has led to its nomination as one of the top 10 airports by CNNGo. It is a popular choice for travelers visiting the state since it is located strategically close to the scenic hotspots here. It is the alternate airport for reaching the major tourist locations of Panama and Mexico, Canada, the Bahamas and the Caribbean Islands along with leading European cities. Closer to home, the airport is located very close to the central business district and downtown Tampa which leads to steady business travel flow round the year. All these activities and figures naturally lead to heavy ground traffic which is evident by the traffic congestion around the airport area and the increasing parking crisis faced by travelers here. There have many infrastructural developments over the years and many more are in the pipeline but the heavy volume of business has not really had a positive effect on the parking crisis. Enter professionals like Greenbee Parking who have taken the bull by its horns and created alternate and innovative parking options that have come as great relief for both travelers and authorities here. The best part is that one can get these benefits at very cheap TPA airport parking rates.
The Greenbee Airport Parking Solution
Greenbeeparking.com is the connection between consumers and parking vacancies in close proximity to major airports and seaports. The parking spaces are very affordable because the company has negotiated discounted rates with major hotel chains for the parking spaces that are not currently occupied. Here's how it works.
Greenbee Parking puts the available inventory of parking spaces on their website to be reserved by business and leisure travelers looking for cheap airport parking. This alternative method for finding parking equates to significant savings for the traveler.
About Greenbee Parking
Greenbee Parking is the nation's most innovative long term parking company, with a new way of making long term parking affordable. The company is rapidly adding new airports to its network.