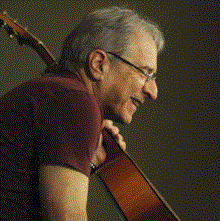 Lauded by Rolling Stone magazine as one that "defined the Northeast folk music style.
Cornwall on Hudson, NY (PRWEB) October 03, 2013
Legendary Woodstock-based folk singer, writer and guitarist Happy Traum will perform on Saturday October 19 as part of The Storm King School's exciting new Acoustic Music Series. The series is a vital component of the school's cultural education program and features concerts open to the public and school community. The concerts offer a broad array of traditional American music artists who represent some of the many musical styles known collectively as "roots" music. Ranging from blues to bluegrass, with influences as diverse as Celtic and African traditional folk music, these acoustic musicians exemplify the best in traditional American music today.
October's featured performer in the series, Happy (Harry Peter) Traum, is one of the original purveyors of American folk music that came of age in Washington Square and Greenwich Village in New York City in the 1950s and 60s. He has performed and collaborated with Bob Dylan, Pete Seeger, Allen Ginsburg, Bill Keith, Jim Rooney, John Herald, Roly Salley and many, many others. Much of Mr. Traum's career as a performer was spent as half of a folk singing duo with his late brother Artie Traum. According to Happy Traum's website, the brothers' sound was lauded by Rolling Stone magazine as one that "defined the Northeast folk music style."
Mr. Traum is also a distinguished music educator. He and his wife Jane are founders of Homespun Tapes, music instruction material they started recording on tapes in 1967. Today, over 500 different Homespun music lessons featuring a variety of professional musicians teaching instruments and musical styles can be found on DVDs, CDs, books and downloads. Storm King's Head of School Paul C. Domingue says, "I think it's a natural for him to come here, not only because of his talent, but because his second career is music education."
Upcoming concerts in Storm King's Acoustic Music Series will feature Jay Unger and Molly Mason (November 15), The April Verch Band (January 20), Adrien Reju Trio (February 8), Amanda Penecale and Friends (March 29), Alasdair Faser & Natalie Haas (April 29).
As a gesture of community spirit, all concerts are open to the public and begin at 8 p.m. at the Walter Reade, Jr. Theatre, on the campus of The Storm King School, 314 Mountain Road, Cornwall on Hudson, New York 12520. They may be purchased in advance at http://www.brownpapertickets.com and if available, at the door. For more information: http://www.sks.org/news/index.cfm.
The Storm King School, founded in 1867, is an independent, coed, boarding and day school for grades 8-12 located on Storm King Mountain in Cornwall on Hudson, N.Y. For more information: http://www.sks.org.