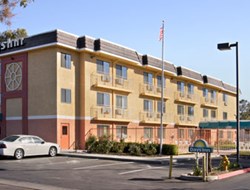 Our partnerships are specially focused at creating more innovative parking options.
Sacramento, CA (PRWEB) October 21, 2013
Greenbee Parking, a new and upcoming airport parking service, has announced that Days Inn Woodland will be their new business partner in Sacramento. Now, all travelers who frequently use the busy Sacramento (SMF) airport can avail more secure spots for their vehicles without having to battle the usual airport traffic and worry about missing their flights. As part of this partnership, Greenbee has also announced new deals which are all set to benefit not just their long term customers but also clients who want short term bookings, and all at very affordable SMF airport parking rates.(http://www.greenbeeparking.com/CALIFORNIA/SMF). There is no need to book a room at the Inn since all Greenbee customers are eligible to use the allotted parking space without reserving a hotel room. All one has to do is present the booking slip or receipt at the counter and then immediately park their cars. They can rest easy now since their vehicles are in a secure location away from the airport rush and hassle, which is perhaps a better decision, especially for long term bookings. Once they are done, they can take the shuttle which runs in regular intervals and ride to the airport in leisure.
"Our partnerships are specially focused at creating more innovative parking options," said Christine Cooper – Marketing Coordinator, Greenbee Parking. "We hope to provide more value for each deal for all our customers so that they can significantly save on their travel budgets. We have joined hands with Days Inn Woodland so that we can offer better parking opportunities at much cheaper SMF airport parking rates for all."
Sacramento International Airport Parking Information
Sacramento International Airport sees a high volume of business travel and an equally high volume of tourist footfalls since the state of California is one of the major finance and tourist hubs of the nation. As the capital city, Sacramento is home to many multinational companies which traverse industries like technology, telecommunications, energy, FMCG and the life sciences among others. The steady flow of business travelers in and out of Sacramento (SMF) is one of the highest in the country which along with the tourist flow in the region leads to very heavy airport activity figures. Along with improvements in key airport services there has been a rising demand for airport parking expansion as well. The advent of service providers like Greenbee Parking have greatly eased this burden for the authorities as the young company has been coming up with newer and better deals on a regular basis. Their latest partnership with Days Inn Woodland promise to make it even easier to book and park vehicles, and without having to pay SMF airport parking rates for the service.
The Greenbee Airport Parking Solution
Greenbeeparking.com is the connection between consumers and parking vacancies in close proximity to major airports and seaports. The parking spaces are very affordable because the company has negotiated discounted rates with major hotel chains for the parking spaces that are not currently occupied. Here's how it works.
Greenbee Parking puts the available inventory of parking spaces on their website to be reserved by business and leisure travelers looking for cheap airport parking. This alternative method for finding parking equates to significant savings for the traveler.
About Greenbee Parking
Greenbee Parking is the nation's most innovative long term parking company, with a new way of making long term parking affordable. The company is rapidly adding new airports to its network.