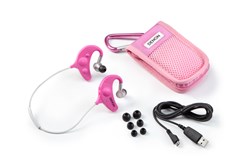 " It's an honor and a privilege for Denon to join forces with Komen to help empower women and energize the science to find a cure to this devastating disease," said Petro Shimonishi for Denon.
Mahwah, NJ (PRWEB) October 01, 2013
This October, there is something new in pink to help support a healthy lifestyle and Breast Cancer Awareness Month (BCAM). Denon Electronics, a premier manufacturer of high-quality home and personal audio products, is partnering with Susan G. Komen® in the fight against breast cancer. Denon®, the official Komen headphone partner, is offering a new special edition Susan G. Komen Exercise Freak In-Ear Headphone. Available in signature pink of Komen, $12.30 from the sale of each set of headphones will benefit Komen and Denon has committed to a minimum guarantee of $50,000. This is the first October they are available at select Denon® dealers and online at http://www.ExerciseFreak.com for $149.
Denon Exercise Freak Headphones Rock a Workout
Music has the power to enhance and motivate a workout performance. With this in mind, Denon Exercise Freak Headphones were created specifically to help people achieve their very best. Denon covered all of its bases with the Exercise Freak Headphone features, including:

Bluetooth® 3.0 wireless connectivity, with an integrated amplifier
Super lightweight and Sweat-proof design with articulating in-ear pieces
Signature sound quality
Rechargeable battery to provide up to seven hours of pulse-pounding music for even the longest of workouts
A special reflective band on the back to help keep runners safe at night
Notably, Denon paid very close attention to the fit of the headphones, recruiting athletes worldwide to conduct serious testing of early prototypes in order to insure the final design delivered the most secure and lightweight fit.
Denon Sport mobile app
With Denon's Exercise Freak Headphones users never have to break up the rhythm of a workout, even when answering an incoming phone call. The Exercise Freak features Denon's integrated controls and microphone, simply tap the earpiece to switch from music to calls and back again. Denon's patent-pending air cushion serves two purposes – cushioning the centrifugal force of pressing a button to control music while in motion and providing ventilation in between the earpiece and your head. The Exercise Freak comes with a handy mesh carry case and a karabiner clip to attach the case to the outside of your gym bag.
Denon Sport App + Denon Exercise Freak Headphones = Maximum Results
With the Denon Sport Mobile App, the Exercise Freak is a virtual workout buddy designed to fit securely and comfortably in users ears during even the toughest sessions. In addition to a GPS tracking feature for outdoor activities, the App includes a workout journal to track fitness goals. With access to the online community via Facebook and Twitter, users can easily share workout progress with friends. The Denon Sport App even lets users map location, speed and how long it should take to complete a run at the target pace! The Denon Sport App is available for download.
The Exercise Freak is part of Denon's new widely varied headphone family- Exercise Freak, Urban Raver, Globe Cruiser, Music Maniac, and Classic. They feature groundbreaking lifestyle-specific smartphone applications, all of which are engineered from the ground up to Sound Like You™, Move Like You, Fit Like You. Denon's new Exercise Freak headphones are compatible with all Bluetooth devices and include anti-microbial ear tips (S, M, & L sizes) and a micro USB charging cable (for charging the battery).
---
About Denon Electronics
Denon is a world leader in the manufacture of the highest-quality home theater, audio and software products. Denon is recognized internationally for innovative and groundbreaking products and has a long history of technical innovations, including the development and groundbreaking commercialization of pulse-code modulation (PCM) digital audio. Denon Electronics is owned by D&M Holdings, Inc. Visit us at usa.denon.com. Join us at Facebook and Twitter.
About D+M Group
D+M Group is a global company dedicated to enhancing life through inspired sound solutions delivered anytime, anywhere. With a strong belief that "Performance is everything," D+M is focused on innovation to meet the needs of customers in an increasingly digital world. Serving the consumer, professional and automotive markets, D+M Group brands include Boston Acoustics®, Calrec Audio, Denon®, Denon DJ, Denon Professional, Marantz®, Marantz Professional, and Premium Sound Solutions. D+M Group has approximately 2,000 employees worldwide, with products and services marketed in more than 45 countries. D+M Group is a Bain Capital portfolio company.
All product and brand names with a trademark symbol (except Susan G. Komen which is a registered trademark of the Susan G. Komen Breast Cancer Foundation, Inc. and Bluetooth which is a registered trademark of Bluetooth SIG, Inc.) are trademarks or registered trademarks of D+M Holdings, Inc., or its subsidiaries.
About Susan G. Komen®
Nancy G. Brinker promised her dying sister, Suzy, she would do everything in her power to end breast cancer. Today, Susan G. Komen® works to end breast cancer in the U.S. and throughout the world by investing more than $750 million in breast cancer research and $1.5 billion in community outreach programs over the past 30 years; providing funding to help low-income and uninsured women get screened and get treatment; advocating for cancer research and outreach programs; and working globally in more than 30 countries. Visit komen.org. Connect with us on Facebook and Twitter.
DISCLAIMER
Statements in this news release that are not statements of historical fact include forward-looking statements regarding future events or the future financial performance of the company. We wish to caution you that such statements are just predictions and that actual events or results may differ materially. Forward-looking statements involve a number of risks and uncertainties surrounding competitive and industry conditions, market acceptance for the company's products, risks of litigation, technological changes, developing industry standards and other factors related to the company's businesses. The Company reserves all of its rights.