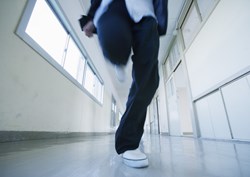 Most students become so wed to their first draft, they shut down the reflection process in its earliest stages.
Santa Monica, CA (PRWEB) October 03, 2013
As the college application essay assumes greater importance in the admissions process, Yessay has created a five-step, fully online writing system to help students express themselves in a more meaningful way in their application essays. As part of the company's beta launch, Yessay now offers free access to the online writing system for a limited time.
The competition to distinguish oneself in today's pool of college applicants is fierce. For example, according to UCLA's admission statistics (collected April 20, 2013), the university received 80,499 applications for Fall Quarter 2013; over 51.6% had a GPA of 4.0 or above. This, along with the recent recommendation from the National Association for College Admission Counseling that colleges reconsider their emphasis on the SAT and ACT within the admissions process, means that other, more qualitative factors, like the application essay, become increasingly important, as they paint a more holistic picture of each prospective student.
Yessay CEO and co-founder, Jacqueline Abrams explains, "The essay is the only place on the application where a student can speak directly to admissions officers in his or her own voice. But because this is also the most important essay that most students have ever written, they are terribly afraid to take a risk and write about the things that truly matter to them, the things that would actually differentiate them within a sea of their peers."
Typically, this means that students pursue a safer route, choosing to write about life experiences that are impressive on paper, such as a one-week community service project in Peru or winning a big game. In the end, they fail to impress the admissions committee. While the experience seems notable on paper, if the student lacks genuine passion for it, that, too, comes across in the essay, which ends up sounding generic and cliché.
To help students discover the essay topics that truly move them—the ones that will communicate their enthusiasm and also represent them well—Yessay developed a five-step process to provoke greater thought, as well as enhance writing skills.
Yessay breaks from the linear approach to writing by abandoning the traditional draft process. As Abrams says, "Drafts are great, only so long as a student is willing to totally re-think and re-write once the draft is done. The problem is, most students become so wed to their first draft that they shut down the reflection process in its earliest stages."
To mitigate against this Yessay prompts students to produce bite-sized components of writing in stages—brainstorm, description, context, and reflection—and only then weave them together in a final organization stage. This way, the student is encouraged to keep thought and analysis active, while experimenting with different combinations of writing until a powerful essay emerges.
About Yessay: Yessay was developed by Jacqueline Abrams, Ph.D., over a ten year period in which she taught writing at NYU and Emory University, as well as tutored high school students on their college application essays. Yessay is a writing system that is comprised of teaching videos, examples, and prompts that guide students through a series of writing stages. Each piece of writing becomes part of the final essay, which is organized in the last stage.
For more information, please contact Jacqueline Abrams at 917-686-4234 or email jabrams(at)yessay(dot)com.