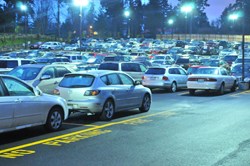 "We are confident that our discounted offers can beat all Seattle Tacoma Airport Parking Coupons..."
Seattle, WA (PRWEB) October 22, 2013
Greenbee Parking, a young and upcoming airport parking service, has just announced a series of new discounted deals for all travelers using the busy Seattle-Tacoma (SEA) airport. With these new deals in place SEA travelers will no longer have to worry about getting secured parking spots for their vehicles or pay through their noses every time they do so. Even if one is booking at the nth hour there are no added surcharges for these bookings. Typically, travelers have to be constantly on the lookout for Seattle Tacoma airport parking coupons (http://www.greenbeeparking.com) in order to get some deals on their parking fees and save money which otherwise creates quite a dent in their parking budgets. Coupons come with their own headaches since the discounts are not always steady or great and it is not easy to hunt down parking coupons when one is otherwise busy with work and life. Greenbee Parking had completely negated the need for these coupons since their basic offers are so affordable that one will no longer feel the need for further discounts or coupons. Whether one is booking the service for longer term or for a shorter duration, Greenbee ensures all customers a definite value for their money.
"We are confident that our discounted offers can beat all Seattle Tacoma airport parking coupons and related offers," said Christine Cooper – Marketing Coordinator, Greenbee Parking. "We want our deals to provide relief and comfort to all our customers who can now expect great service for their money, which is exactly what they deserve."
Seattle–Tacoma International Airport Parking Information
The Seattle-Tacoma International Airport sports figures which immediately push it up among the top airports of the world. These include facts like it is the 15th busiest airport of the nation; 21st in terms of total cargo volume that passes through it and 23rd in terms of aircraft operations round the year. It connects with all major destinations of the world and has witnessed passenger footfalls of over 33.2 million last year. It serves the majority of the Washington state, primarily the cities of Seattle and Tacoma. The busy airport along with the adjacent seaport accounts for heavy ground traffic in the region. Naturally there is an increasing demand for airport parking space expansion which shows that despite the 13,000-car parking garage there is still a crush. Private players like Greenbee Parking have smoothly stepped into this breach between demand and supply with their innovative and varied parking options for all kinds of travelers. Their rising popularity is as much for their impeccable service as it is for their great discounts which completely negate the need for Seattle Tacoma airport parking coupons.
The Greenbee Airport Parking Solution
Greenbee Parking has effectively bridged the gap between parking problems and solutions at both airports and major seaports. They have tied up with major hotels for available parking spaces at discounted rates which they offer their customers across the nation who can now save up to almost 75% of their parking costs.
All they need to do is visit Greenbee Parking, select their city or airport of choice, choose the parking spot and pay through a secured payment gateway. There is a comprehensive list of airports and parking spots to choose from. Greenbee's wide network makes it possible for every customer who logs in to find a solution.
About Greenbee Parking
Greenbee Parking is the nation's most innovative long term parking company, with a new way of making long term parking affordable. The company is rapidly adding new airports to its network.