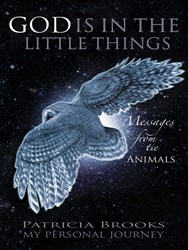 Bridgeport, Conn. (PRWEB) October 03, 2013
What message is God trying to send to you?
God is in the Little Things: Messages from the Animals follows author Patricia Brooks' spiritual journey through loss, confusion and understanding, which ultimately ends with her reclaiming her identity and self-worth through learning to love herself.
By laying out the intimate details of her life, Brooks invites readers to share in both her struggles and her triumphs in the hopes that readers will feel inspired to embark on their own spiritual journeys and reclaim their own joy and sense of self.
"Everyone is wounded in some way," said Brooks. "Our wounds are our emotional, spiritual, and psychological manifestations of our opportunities to grow spiritually."
As the reader goes deeper into Brooks' story, they will learn about her experiences with animals, acting as animal totems, and how God communicates to people through unexpected means.
"Communication with the Divine is not only possible, it is happening all around us," said Brooks. "We just have to be open and aware of it, so we can fully participate in our human and spiritual journey."
For more information, visit http://www.godisinthelittlethings.com and http://www.godisinthelittlethings.blogspot.com.
God Is In the Little Things: Messages from the Animals
By Patricia Brooks
ISBN: 978-1-45257-656-5
Softcover retail price: $11.99
Hardcover retail price: $28.99
E-book price: $3.99
About the author
Patricia Brooks is an interfaith seminary student and an angel healing practitioner. She is dedicated to continuing her studies of different spiritual practices and energy modalities. She lives with her two daughters in Connecticut.