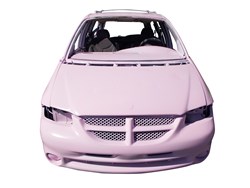 We're trying to do our part to end breast cancer forever.
Adrian, Michigan (PRWEB) October 03, 2013
October is National Breast Cancer Awareness Month, and the Chrysler dealership in Adrian, Michigan, is raising awareness and promoting education.
To start off the promotion, an old car, spray-painted pink, is on display outside the dealership. CR of Adrian offers two swings at the car for $15, in an effort to "beat out breast cancer." The promotion takes place October 10 – 12, from 9am to 6pm Thursday and Friday, and from 10am – 2pm Saturday. All proceeds will benefit the American Cancer Society.
The dealership plans to set up a display with free brochures to educate the local community about breast cancer.
In addition, CR of Adrian also offers the opportunity to win a free t-shirt at the end of October. Everyone is eligible to enter, and no purchase is necessary. CR encourages those in the community to visit the dealership to smash the car, learn more about breast cancer detection and support, and enter to win the free t-shirt.
"We are excited to offer free educational materials to our community, and to promote breast cancer awareness," says Sam Jones, Owner of CR of Adrian. "We're trying to do our part to end breast cancer forever."
To further promote breast cancer awareness, CR of Adrian has added a pink background to its website, and will post educational materials and links on its social media accounts throughout October.
The breast cancer awareness promotion will run through October, and the winner of the free t-shirt will be drawn the last weekend of the month.
Sam Jones is the Owner of CR of Adrian, a car dealership selling Chrysler, Dodge, Jeep, and Ram vehicles. Jones purchased the dealership, formerly Dave's Adrian Dodge, in October 2012. Jones' main goal is good customer service to inspire customer loyalty. The dealership has a website at http://www.CRChryslerDodgeJeepRam.com with new and used vehicle inventories available online.