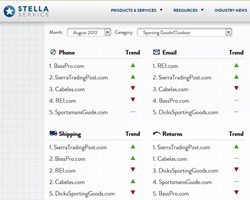 We're successful with service because we empower our agents on the front lines.
Cheyenne, WYO (PRWEB) October 02, 2013
Sierra Trading Post was recognized for superior customer service this week by STELLA Service, an independent company that rates eTailers' customer service performance. STELLA's monthly benchmark survey included more than 100 large Internet retailers across 10 popular product categories with more than $100 million in annual revenue.
Though the Wyoming-based company is frequently lauded for superior customer service, August marked the first time Sierra Trading Post made STELLA Service's top 10 list when compared with 101 retailers in 10 segments, including apparel, beauty, department stores, electronic media, home improvement, home furnishing, office supplies, sporting goods and sportswear. That analysis benchmarked levels of service for phone, email, shipping and returns among a group of merchants monitored on a daily basis by STELLA.
Sierra Trading Post was joined by JCrew, Kate Spade, Saks Fifth Avenue and Shopbop.com on STELLA's top 10 list. Other active and outdoors lifestyle retailers making the top 10 list included Cabela's, lululemon and L.L.Bean.
Sierra Trading Post bested competitors in the Sporting Goods/Outdoor Category last month, taking top performance honors in shipping and returns for ease of returns, clear policy and speedy shipping. In fact, "SierraTradingPost.com was the only company in the category to deliver in less than five days," according to the survey.
In phone and email categories, Sierra Trading Post also shines. Callers are greeted immediately by an agent in one of the brand's Wyoming call centers. Customer-generated email gets a response in 35 minutes or less, chats are responded to within 10 seconds, and all agents are knowledgeable about product and policy.
"We're successful with service because we empower our agents on the front lines," says Kimberly Porlier, customer service manager for Sierra Trading Post. "From their desks here in Wyoming, they are highly responsive on phone, email, chat and social media to make sure orders are right and concerns are resolved smoothly and quickly in a single contact."
STELLA also noted the brand's commitment to outstanding customer service extends to Twitter, where specially trained agents respond around the clock to followers voicing concern for orders or sharing the incredible deals on outdoor gear and apparel Sierra Trading Post is known for.
"This is nice acknowledgement for our 150 customer service agents, 40 returns specialists and 270 Fulfillment Center employees," Porlier added. "Making customers happy is what we do 24 hours a day, seven days a week, wherever and whenever they reach out to us."
Since its founding in 1986, Sierra Trading Post has guaranteed customers 100 percent satisfaction and offered hassle-free returns and refunds. To make the returns process even easier, the top Internet retailer recently began offering Instant Store Credit and free shipping when customers process exchanges or replacement orders online.
About Sierra Trading Post
Headquartered in Cheyenne, Wyo., Sierra Trading Post is a top internet retailer known across the globe for offering "Great Deals. Great Brands." Sierra Trading Post purchases overstocks, closeouts and 2nds from more than 3,000 brand names, and has offered customers savings of up to 70% since 1986 on outdoor gear, shoes, clothing, accessories and home furnishings. Sierra Trading Post has stores in Boise, Idaho; Reno, Nev.; Cheyenne and Cody, Wyo., as well as a Technology Campus in Fort Collins, Colo. In December 2012, Sierra Trading Post was acquired by TJX Companies, the leading off-price retailer of apparel and home fashions in the US and worldwide.