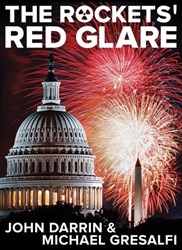 We spent countless hours over the last four years carefully researching and creating an authentic story that is also a compelling read. People need to be aware that events like these are closer to 'when it will happen' than 'if it will happen'.
Washington, DC (PRWEB) October 04, 2013
A new novel, The Rockets' Red Glare, depicts a plausible alliance between al Qaeda terrorists and the domestic hate group, WAR, to detonate dirty bombs disguised as July 4th fireworks over twelve major American cities.
Al Qaeda terrorists steal a large amount of radioactive cesium from an industrial site and place it in fireworks displays. To escape the vigilance of the country's law enforcement and homeland security forces searching frantically for the dangerous material, they enlist the White Aryan Resistance to provide its white, Christian soldiers to deploy the weapons across the country. Two men, terrorism expert Cal Bellotta and computer wizard Ray Nassiri, must peel away the layers of deception to discover the truth and reveal the conspiracy before Independence Day becomes Doomsday.
Reviewer Derek Armstrong, Films and Books: "…a gritty, real-world portrayal of how the unspeakable could be accomplished by terrorists" and "… a great read that never once slips."
Kevin Kraus, U. S. Counter-Terrorism Operations Support: "…a fact-based thriller that sends shivers down the spines of those of us who work diligently every day to ensure these types of events don't happen."
Joe Moore, best-selling author: "…a labyrinth of suspense, crisply plotted and paced, with throat-grabbing twists. Not to be missed."
John Darrin is the author of two previous novels, The Law of the Pack and Screenshot, and worked as a consultant in radiological emergency preparedness. Dr. Michael Gresalfi is a senior government advisor on terrorism, WMD, and the prevention and response mission areas.