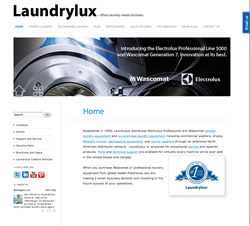 Everything we do, from marketing to product development, is with our customers' needs in mind.
Inwood, NY (PRWEB) October 02, 2013
Laundrylux launched its new website today at http://www.laundrylux.com. The site has been redesigned with a fresh, clean look and user-friendly navigation.
The site includes information on the new Electrolux Professional Line 5000 and Wascomat Generation 7 equipment lineup. It also includes details on PLUS - Professional Laundry Utility Service by Laundrylux. With PLUS, hotels, nursing homes and other On Premise Laundry customers can receive new Electrolux professional laundry equipment delivered and installed for free with zero capital investment and no long-term lease or contract. PLUS is a revolution in OPL which operates like Zipcar™ and other "only pay for what you use" services.
From the new Laundrylux site you can access brochures and technical specifications, or find out about Laundrylux Financial Service's financing programs including the industry's only 15-year finance program. That's quite a testament to the quality and long-lifetime of the products.
Click by to learn about unique Electrolux and Wascomat features and benefits such as easy-to-program Compass Pro controller, sanitizing rinse, real-time clock for happy hour pricing and automatic start, multi-language display, voice guidance, text messaging, automatic water savings (AWS) for up to 30% in water savings, and EcoPower and reversing drums for faster drying and huge energy savings.
Be sure to click on "News Blog" in the top menu bar to visit Laundrylux's blog. Sign up and you will receive email notifications of news, special events, sales, and financing offers as soon as they are announced.
About Laundrylux®
Laundrylux distributes Electrolux® professional and Wascomat® commercial laundry products in North America through its extensive distributor network. The company offers state-of-the-art commercial laundry and wetcleaning equipment for the Vended and OPL markets, as well as financing and marketing support. Electrolux and Wascomat products are world-renowned for exceptional quality, durability, and water and energy efficiency. To learn more, visit http://www.laundrylux.com.