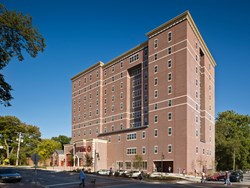 Wilmington, DE (PRWEB) October 02, 2013
WHAT:
City, state, and federal officials, including Mayor Dennis P. Williams and former Mayor James Baker, as well as members of the Wilmington City Council, will join executives from the Wilmington Housing Authority and The Michaels Organization on Monday, October 7, to celebrate the grand opening of Lincoln Towers, a newly constructed affordable housing community for seniors co-located with a brand new station for the city's Fire Station #5. The ceremony marks a major milestone in the revitalization of the Trolley Square Neighborhood in downtown Wilmington.
WHEN:
Monday, October 7, 2013. Ceremony will start promptly at 10:55 a.m.
WHERE:
Lincoln Towers, 1800 N. DuPont Street, Wilmington, Del.
DETAILS:
The Wilmington Housing Authority, the City of Wilmington, The Wilmington Fire Department, and The Michaels Organization will host a Ceremonial Ribbon-Cutting for Lincoln Towers, an innovative mixed-use, community featuring 88 units of affordable housing for seniors and a New Fire Station #5. Lincoln Towers was the recipient of a $10 million competitive "green" American Reinvestment and Recovery Act (ARRA) grant from The U.S. Department of Housing and Urban Development and features a building design that incorporates high energy efficiency systems and materials, making it one of the premier "green" buildings in the City of Wilmington.
Photo opportunities include the arrival of two fire trucks to their new station house and two Ribbon-Cuttings, one for the Fire Station and one for the Residential Apartments, followed by remarks by Mayor Williams, Wilmington Housing Director Frederick Purnell, and state and federal officials. As October is officially designated as "Housing America" month, the program will also feature remarks by a senior director of the National Association of Housing and Rehabilitation Officials (NAHRO).
Members of the Press are Invited to arrive at 10:30 for a pre-event tour of the community.
About Wilmington Housing Authority
WHA is the largest direct provider of affordable housing opportunities in the State of Delaware, managing nearly 2000 units of public, tax credit and market rate housing and administering nearly 1900 housing choice vouchers in a variety of programs. Our programs serve over 7000 low to moderate income residents of the City of Wilmington. Directly funded by the United States Department of Housing and Urban Development, WHA's combined operating, capital and voucher program budgets exceed $30 million annually.
About The Michaels Organization
The Michaels Organization is a family of eight integrated but independent companies dedicated to excellence in affordable, mixed-income, military, and student housing. Our mission is to create attractive residential communities for families, seniors, military service members, and students that stand the test of time and that are managed to maximize long-term value for residents as well as investors. Serving more than 100,000 residents in 360 communities across 34 states, the District of Columbia, and the U.S. Virgin Islands and with a development portfolio valued in excess of $3 billion, The Michaels Organization is a national leader in the residential real estate industry, with full service capabilities in development, property and asset management, construction, mortgage finance, and tax credit syndication.