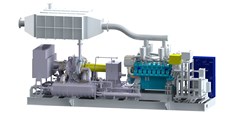 with TurboPHASE, a utility can easily move the power to any of its plants around the world, reducing the risk of purchasing new generation.
Jupiter, FL (PRWEB) October 04, 2013
Bob Kraft has been down this road before. In 1999 he discovered a better way to reduce power plant emissions. The inventions from that discovery became a company that employs more than 500, many of them highly trained engineers.
A Smarter Way to Make More Power
Mr. Kraft is at it again with a product called TurboPHASE, which he believes is a better way to fill the need for new power generation. "With the new natural gas discoveries it makes sense to use a clean resource to generate more of our power," said Kraft. TurboPHASE is more efficient than traditional 'peaking' power plants, burning 20-40% less fuel, giving it a much smaller carbon footprint.
Why Build When you Can Boost?
Rather than building a new plant, TurboPHASE "supercharges" an existing plant using air-injection, much like the supercharger in a car. A single TurboPHASE unit can ride on an 18-wheeler, so it can be quickly delivered wherever it is needed. "Many utilities are hesitant to invest in new generation because power markets are unpredictable, but with TurboPHASE, a utility can easily move the generation to any of its plants around the country or around the world, reducing the risk of purchasing new generation," said Kraft. TurboPHASE can be mass produced, tested before arrival & installed in a few days.
Power Plant Breakthrough Coming to Texas & Orlando
The first TurboPHASE unit has been completed & factory tested. It is currently in route to Texas and will be tested on 2 of the most common types of power plants. In November TurboPHASE will be on display at POWER-GEN, a large power industry trade show in Orlando. The TurboPHASE unit has been selected as a technical demonstration for POWER-GEN & so will be started and operated in the trade show exhibit hall.
A Proven Job Creator
The Company has already hired several highly skilled employees for its Jupiter, FL office. If Kraft has his way, it's just the beginning. Kraft has always been a believer in making an impact on the local economy as evidenced by his track-record as a job creator. "Many of our best ideas come from 'ordering an invention'", said Kraft. "We start with the problem, then our engineers work on a solution that meets performance & production cost goals. That can't happen if you don't hire the best & brightest."
Air Injection = Better Use of Water Resources
"We are hopeful that we will be able to make a positive impact by helping utilities meet the growing demand for power," said Kraft. According to the Sierra Club, the Power Industry uses 200 billion gallons of water each day, mostly through power-plants' water intake systems. TurboPHASE uses no new water. Instead it boosts the power from plants that are already built, using Air Injection. An avid fisherman, Kraft has deep personal conviction for preserving marine resources.
Helping Renewables Work
Another benefit of TurboPHASE is that it provides its power boost in under 30 seconds. More wind & solar power is advantageous but what happens when the wind stops blowing or the sun stops shining unexpectedly? Utilities have to make up for the lost power with fast responding systems (known as flexible resources). TurboPHASE is by far the fastest responding method for getting more power from a baseload Gas Turbine power plant.
The Edison Heritage of Innovation
There are many exciting new ideas in the power industry, but few are adopted. TurboPHASE has the distinction of innovation at a cost lower than old technologies. "Our first installation will be very important. We are looking for more than just a customer, but a true partner with a culture of innovation" said Kraft. Kraft continued, "We hope to follow the model of my last business & create a highly skilled workforce." Kraft may soon find the partner he's looking for, which sounds like a good thing for the economy & the environment.