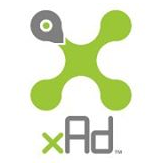 "We are thrilled to be recognized by our peers and will continue to serve as the guiding force in developing the most sophisticated technology for mobile location - xAd CEO D Sharma
New York (PRWEB) October 02, 2013
Lauded by peers in the mobile advertising community, xAd, a mobile-location based advertising platform achieved top honors at MMA's 2013 Global Smarties™ Gala by winning the Global Enabling Technology Company of the Year award. This award was presented to xAd based on its innovative technology that has changed the landscape of the mobile marketing industry and for exhibiting unprecedented leadership within the mobile marketing industry to help its growth and best practices.
"Since the company's inception, xAd has pushed the technology envelope for mobile location serving over a million small-medium and national advertisers in three countries. We have continued to work hard to drive the industry forward through active participation in key organizations and committees including MMA," said Dipanshu "D" Sharma, CEO of xAd. "We are thrilled to be recognized by our peers and will continue to serve as the guiding force in developing the most sophisticated technology for mobile location as we expand into further countries in 2014 and collaborate with partners to establish new standards for the industry."
xAd's proprietary mobile-location solutions, including its SmartLocation™ and SmartFencing™ targeting technologies, allow advertisers to achieve campaign-specific goals, focused on a variety of location types and audience segments. As the largest location based mobile ad platform in the U.S., xAd aggregates and manages over 30 billion location-specific ad requests per month, billions of business listings, and over one million national and local advertisers.
"xAd has revolutionized advertising and marketing by helping brands harness the power of location. With location as one of the critical backbones of mobile marketing efforts, it is important to have the thought-leadership, expertise and courage that xAd has dedicated to evolving location capabilities," said Sheryl Daija, Chief Strategy Officer, MMA. "The Smarties recognize brands that are trailblazing the mobile landscape and xAd is one company that is leading the pack."
The Smarties is the only awards program that recognizes best in class mobile work from around the world. With submissions from over 36 countries, the Smarties winners were selected from a competitive field of entrants, all of which demonstrated innovation, creativity and bravery across the mobile marketing and advertising ecosystem. The MMA assembled a collection of industry visionaries to form the Smarties jury with the task of identifying the winning work.
About xAd
Founded in 2009, xAd is one of the largest mobile advertising platforms in the U.S. and the leader in delivering targeted mobile ads based on accurate user location and search context. Across its network, the company aggregates and manages billions of monthly ad impressions from which it derives the largest supply of location-based advertising inventory in the market. xAd delivers targeted mobile location@scale for over a million national and local advertisers, including brands like Pinkberry, Home Depot and Wells Fargo. xAd is based in New York City with several satellite offices across the U.S. and internationally. For more information, visit http://www.xAd.com.