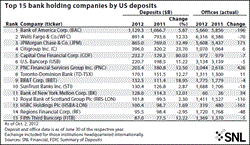 (PRWEB) October 03, 2013
U.S. deposits rose to $8.95 trillion during the year ended June 30, outpacing the roughly 7% deposit growth of the prior one-year period, according to the data.
Bank of America Corp., Wells Fargo & Co., JPMorgan Chase & Co. and Citigroup Inc. remained in the top four spots in terms of total domestic deposits at bank holding companies.
Excerpt from SNL Financial's analysis:
Andrew Busch, global currency and public policy strategist at BMO Capital Markets, was not surprised to see U.S. deposit levels continuing to rise. He noted that troubled European countries such as Spain have seen a large deposit outflow in the wake of their economic instability. Depositors are looking for a safe haven, and U.S. banks can offer this, Busch said.
"Where do you feel safest? If you thought that Europe was going to blow up and the currency was going to go by the wayside, you'd want to have diversification of where you hold your deposits," he told SNL. "If it's easy to walk from the Spanish bank to a U.S. bank and change your deposits, then a lot of people probably did that."
Like Busch, Michael Obuchowski suggested that the growth in deposits could reflect a flight of money from struggling European nations. Obuchowski, a portfolio manager at North Shore Asset Management, also said the growth in deposits makes sense, given that many U.S. investors continue to sit on the sidelines and hold cash.
The pace of branch decline quickened in the recent period, as the number of U.S. branches fell to 97,337 at June 30, down 867 branches from a year earlier. By comparison, branches declined by about 315 from 2010 to 2011.
Obuchowski attributed some of the decline to M&A among the industry's smaller players. "There's certainly consolidation, and many of the smaller institutions are just not surviving," he told SNL.
For the full story, visit http://www.snl.com/InteractiveX/Article.aspx?cdid=A-15921117-13105