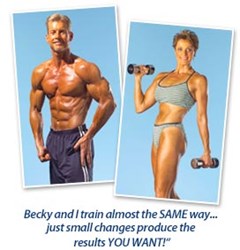 Old School New Body completely changes the concept of restoring youth, without one having to devote much time.
Los Angeles, California (PRWEB) October 06, 2013
Old School New Body, an e-book designed to help adults lose weight and be healthier, provides an alternative diet and exercise plan that can actually help reverse the aging process. It is organized into five easy-to-follow steps. The content promises to help one look ten years younger. And… the promise is legitimate because the e-book shows the foods and habits which actually do slow and reverse aging.
With the tips provided, it is possible to look a decade younger, in just 90 days or even less. The principles are not spectacular, but effective. Extensive workouts are not necessary, but men and women should follow the same basic exercise routine, according to the plan. Heavy weights are also not necessary, as is more time at the gym. Based on this new system, a workout of 20-30 minutes each day is effective.
In fact, the e-book warns against strenuous workouts. These can increase the pace of the aging process. By following less time-consuming exercises, regardless of age, people can actually see a benefit. Other factors such as dehydration are addressed. This is a major contributor to accelerated aging, fat gain, and appetite. Major organs, when properly hydrated, also work more efficiently.
A fast-paced exercise program, called the F4X Training System, is the focus of the program. The routines in this system can be completed quickly; participants also receive a comprehensive nutrition plan, anti-aging facts, and a number of protocols to improve their lifestyle.
"Old School New Body completely changes the concept of restoring youth, without one having to devote much time. It reveals how anyone over 40 can slow the aging process by tending to their body's natural processes," a spokesperson for Go and Get Healthy said.
To see substantial results, Old School New Body only requires about an hour-and-a-half of time every week. Go to Go & Get Healthy Website to learn more about this effective program and start benefiting right away.
About Go and Get Healthy
Go and Get Healthy is a health product information and review website. Covering topics such as alternative health, wellness, and healthy living, it features posts on the latest programs for weight loss, muscle building, and other common health subjects. This website is divided up into Men's Health, Women's Health, and Weight Loss categories, updated as new health products become available. To learn more, go to Go & Get Healthy Website.