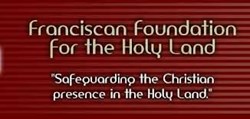 ...cited for upholding the 'truth, reality, faith and hopes of the Holy Land.'
(PRWEB) October 02, 2013
The prestigious Guardian of the Holy Land Award will be awarded to Anthony F. Sansone of St. Louis, and Dr. Richard F. Toussaint of Dallas, according to Fr. Peter Vasko, President of the Franciscan Foundation for the Holy Land (FFHL). The awards will headline the upcoming Vatican Embassy Gala October 12 in Washington, D.C.
Sansone is founder of the Sansone Group, a nationally known real estate development firm. Dr. Toussaint is an anesthesiologist, practicing in Dallas. Both men are long-time supporters of the Foundation, and will be cited for upholding the "truth, reality, faith and hopes of the Holy Land."
Keynote speaker at the black tie fundraiser will be Archbishop Carlo Maria Vigano, Apostolic Nuncio to the United States and "Special Advisor" for the Franciscan Foundation for the Holy Land. Other dignitaries will include Archbishop of Washington Donald Cardinal Wuerl. More than 100 guests from both the United States and Europe are expected.
The biennial event was initiated by Archbishop Pietro Sambi when he was Papal Nuncio for the United States. Sambi considered the FFHL a vital resource for stemming the exodus of Christians from the Holy Land, "a land he always loved." He died in 2011 at age 73.
The fundraising event supports FFHL's educational programs in the Holy Land and is underwritten this year by Mr. and Mrs. Arthur J. Dickerson, Ft. Worth, TX.