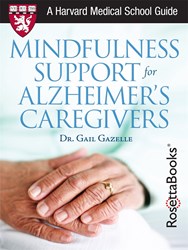 'Each Harvard Health Publications original eBook is an important contribution to its field.' - Arthur Klebanoff, CEO of leading independent digital publisher RosettaBooks
New York, NY (PRWEB) October 02, 2013
Providing care to patients with Alzheimer's and other forms of dementia can be emotionally taxing and physically exhausting. In Mindfulness Support for Alzheimer's Caregivers, Dr. Gail Gazelle offers her experience as a former caregiver in addition to more than 25 years of experience as a physician. Affirmations, advice, and comforting counsel will aid the "wounded healers" in meeting their own needs while taking care of their loved ones.
"This is a compassionate and informative guide for every caregiver," said Dr. Julie Silver, Chief Editor of Books for Harvard Health Publications.
"Each Harvard Health Publications original eBook is an important contribution to its field," said Arthur Klebanoff, CEO of leading independent digital publisher RosettaBooks.
An Assistant Clinical Professor of Medicine at Harvard Medical School and a coach for fellow physicians, Dr. Gazelle's specialty is "healing the healers." With experience treating thousands of patients with Alzheimer's and dementia, she has an intimate understanding of the challenges faced by caregivers of family members and loved ones with this devastating disease.
Harvard Medical School was founded in 1782 and encompasses 18 affiliated hospitals with more than 11,000 faculty physicians. Harvard Health Publications is the media and publishing division of the Harvard Medical School. The goal of its publications is to bring people around the world the most current health information that is authoritative, trustworthy, and accessible.
This title is part of a series of Harvard Medical School Guides that are short, practical original works, organized by Harvard Health Publications and drawing on the resources of Harvard Medical School.
About RosettaBooks: RosettaBooks is the leading independent eBook publisher, responsible for such timeless classics as Brave New World, Slaughterhouse-Five, The 7 Habits of Highly Effective People, and the complete works of Winston Churchill. Publisher of ten Kindle Singles, including Ray Bradbury's The Playground, RosettaBooks has launched nine of them to bestseller status. For more information, please visit RosettaBooks.com and follow the e-publisher on Facebook.