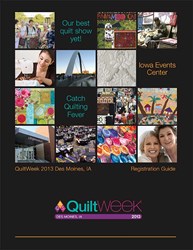 Des Moines, Iowa (PRWEB) October 02, 2013
AQS QuiltWeek ® – Des Moines, Iowa 2013, opening October 2, 2013, features over 1,650 quilts from around the world. Fifteen special exhibits include international collections, exclusives from The National Quilt Museum, three show-stopping new collections, and the World Debut of Quilted in Honor supporting America's Veterans.
The high point of the show recognizes the artistry of today's quiltmakers as artists compete in the AQS Quilt Contest for more than $44,000 in cash awards, plus another $6,000 in the Modern Quilt Challenge. Entries in this international contest and exhibition come from around the world–with artists from 37 states and five other countries. The winners of this year's contest have just been selected.
This year's winners come from across the world and feature several large prize winners from Iowa. Quilts from 20 states have won awards at this year's contest along with winners from two Canadian Provinces. These winning quilts will astound the 14,000 quilters expected to visit AQS QuiltWeek in Des Moines, Iowa, October 2 – 5, 2013.
A highlight of the winners of top honors are:
Best of Show Award: BARCELONA CROW'S NEST, Patricia Delaney, Abington, MA
Best Hand Workmanship Award: HARRISON ROSE, Karen Woten, Ottumwa, IA
Best Machine Workmanship Award: BATTLE OF GREASY GRASS (LITTLE BIG HORN), Patsy Heacox, Green Valley, AZ
Best Longarm Workmanship Award: AUNTIE'S RED HOT GARDEN, Mary Shotwell, Des Moines, IA
Best Wall Quilt Award: NATURAL WONDERS, Kathy McNeil, Tulalip, WA
There's still time to come see all the winners, as well as the more than 1,650 quilts on display at the Iowa Events Center. Admission to AQS QuiltWeek includes access to all special exhibitions and the huge merchant mall. Hours are Wednesday, October 2, through Friday, October 4, from 9 a.m. to 6 p.m., and Saturday, October 5, from 9 a.m. to 5 p.m.
The American Quilter's Society is the largest quilting membership organization in the world. For almost 30 years, AQS has been the leading voice in quilting inspiration and advice, through a broad suite of products—magazines, books, live events, contests, workshops, online networks, patterns, fabric, and catalogs. At AQS, we believe that with inspiration and advice, the creatively-minded individual can take their quilting projects beyond what even they had imagined. That is why inspiration is central to everything we do. The leading authors in quilting choose to publish with AQS; the best in quilt artistry select AQS events to display their work; the newest quilters learn from the knowledge and inspiration of AQS members.