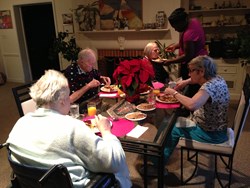 Potomac, Maryland (PRWEB) October 02, 2013
For all government employees, it has been a very tough few days. The government officially shut down on Tuesday, October 1, 2013, which in turn has affected thousands of workers. Many employees have feelings of uncertainty, anxiety and questions as to when they will be returning to work and resuming their routines. Potomac Seniors Village, a senior care Maryland center, understands how difficult this time period can be and wants to help. The assisted living center is excited to announce special rates for all federal employees. When a federal employee signs a contract for their loved one to reside at Potomac Seniors Village, they receive half off of their first month's rent.
Potomac Seniors Village is a small assisted living center with a big mission – to provide individualized care to seniors. Although it is challenging, the assisted living Bethesda center has been taking big strides in achieving this goal. Each resident at the senior care Maryland center is treated with the utmost compassion and kindness. From the moment a resident steps into the home, not only do they become part of a community, but they also become part of a family. It is a big family that includes caring staff that is available 24 hours a day to tend to their needs. It is a big family that includes new neighbors, friends and activities. It is a big family that includes a furry, little dog that is the facility pet. Potomac Seniors Village is a big family that is comprised of many members who strive to make each resident's life comfortable, fun and memorable.
There are many factors that make Potomac Seniors Village very unique. It is located in the heart of the posh Potomac, Maryland. The assisted living Bethesda facility is minutes away from a myriad of shopping centers, restaurants and recreation centers. Residents are highly encouraged to explore their surroundings outside of the assisted living center. The staff is also very special. Each member undergoes rigorous training to provide exceptional care. Residents are also given the assisted living manager and owner's direct numbers so that they can be contacted during any time for questions or concerns. In addition, the assisted living provides individualized care in a home-like setting. Each resident's care plan is catered towards their special needs. This way, residents feel comfortable and as if they are living in their own homes.
The biggest factor, however, that sets Potomac Seniors Village apart from other assisted living centers is the residents. Each resident has their own story. Many residents come from out of state, while others come from just a few blocks away. There is great diversity in the types of personalities that reside at the senior care Maryland facility. Some are very gregarious and enjoy sitting with others, while others like to stay in their rooms until meal-time. However, each resident comes to Potomac Seniors Village with an expectation to have their needs met. The assisted living Bethesda facility is proud to fulfill each resident's needs so that they are happy.
Potomac Seniors Village understands that all federal employees are currently experiencing tough times. However, the assisted living center hopes to make it a little more bearable by providing excellent care to their loved ones. Federal employees can take care of themselves while the assisted living can take care of their loved ones. All federal employees who want to take advantage of this special rate or have any questions are welcome to contact the assisted living center. These special rates will run through October 31, 2013.