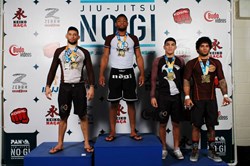 "Knowing what he accomplished at Purple belt everyone is eager to see what he will to at Brown belt. "- Julius Park
Baltimore, MD (PRWEB) October 07, 2013
Crazy 88 Brazilian Jiu Jitsu competitor, Timothy Spriggs, took home double gold from the No Gi Pan American Championship held in New York City by the International Brazilian Jiu Jitsu Federation (IBBJF).
The IBBJF is the largest sanctioning body for the sport of Brazilian Jiu Jitsu and hosts a variety of tournaments and championships that are known to attract the toughest competition in the sport. This includes events in both the gi (traditional uniform) and no gi (without the uniform).
After being ranked the number one Purple belt in the world during the 2013 season, Spriggs has had a tremendous amount of momentum heading into the 2014 season. Despite ending the 2013 prematurely due to an injury sustained during training, Spriggs was promoted to Brown belt at the end of the season.
To kick off his career as a Brown belt and the 2014 season he competed in the New York Summer Open where he took gold and later took double gold at the Sao Paulo Open. The Pan American Championship marks the first No Gi tournament for Spriggs at Brown belt.
Timmy first took Gold in the Heavy division and then took Gold in the Open Class. The Open class is when the winners from each of the weight classes compete against one another.
To win the Open Class, Timothy Spriggs defeated Kevin Machecha (American Top Team) and Dilon Danis (Alliance) in the early rounds. In the finals, Spriggs beat out a tough Medium Heavy opponent to take his second Gold of the day.
Head Instructor, Julius Park, said of Spriggs, "Timmy is a remarkable athlete and Jiu Jitsu practitioner. He has very specific goals and commits himself to achieving them." Park continued, "Knowing what he accomplished at Purple belt everyone is eager to see what he will to at Brown belt. He is definitely off to a strong start."
If you're interested in Brazilian Jiu Jitsu, Muay Thai Kickboxing or Mixed Martial Arts classes for kids or adults, please contact one of Crazy 88's three locations.
7024 Troy Hill Dr, Suite L
Elkridge, MD 21075
http://www.BaltimoreMixedMartialArts.com
5 Easter Ct., Suite E
Owings Mills, MD 21117
http://www.Baltimore-MMA.com
1845 Brookfield Ct
Frederick, MD 21701
http://www.Frederick.Crazy88bjj.com