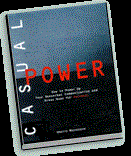 Empowerment Enterprises and Sherry Maysonave are internationally recognized experts.
Austin, Texas (PRWEB) October 03, 2013
Empowerment Enterprises has teamed up with Inquisit® to support the professional growth and development of healthcare executives, managers and staff. The Empowerment Enterprises "Brand a Positive Business Image" and the Amazon category bestseller, "Casual Power – How to Power Up Your Nonverbal Communication and Dress Down for Success," will be educational cornerstones for empowering individuals and groups while enhancing an organization's brand.
Inquisit is a leading national resource for high-quality, affordable training and education for all levels of health care professionals. Inquisit prides itself on having indispensable content from the nation's top experts.
Inquisit vice president Dee Morgillo says, "The healthcare organizations we serve have clearly expressed the need for meaningful education on professional attire, appearance, and overall business image. Empowerment Enterprises and Sherry Maysonave are internationally recognized experts in these areas. We are very pleased and excited to welcome them as an Inquisit Partner."
Sherry Maysonave is the founder and president of Empowerment Enterprises, one of America's leading communication and image consulting firms. A dynamic motivational speaker and author, Sherry Maysonave has made appearances and been interviewed by more than 200 TV, radio, print publications, bloggers, and web sites. This includes multiple appearances on NBC's Today show, Fox National News, ABC, CBS, and NBC television affiliates, NPR radio, a wide variety of AM and FM radio talk shows, and interviews with USA Today, the Financial Times, Associated Press, the Wall Street Journal, and Business Week.
Sherry Maysonave is also the creator of educational, empowering multimedia eBooks for children. The ManiaTales series focuses on interactive imagination, making education fun, and communicating important life lessons.
For more information on Empowerment Enterprises, go to http://www.casualpower.com.