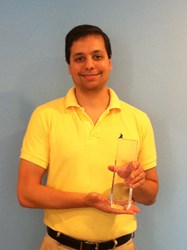 I want to build a respected brand that is recognized around the world.
Boston, MA (PRWEB) October 02, 2013
Amit Mehta just received the trophy awarded to Boost Software™ for Best New Company 2013. Best in Biz International, an organization that honors businesses in 25 countries, bestowed this honor upon the maker of PC Health Boost™ last month.
This new recognition has opened brand new doors for PC HealthBoost™ and software affiliate marketers. The company can display the Best in Biz award icon on their website and product download pages. Boost Software ™ will also receive prominent press release placement on the Best in Biz Awards site.
So what does it mean to be the Best in Biz? To win this award, a company must demonstrate a high level of professionalism that makes it stand out among the competition. Having a track record of customer satisfaction also helps, and so does keeping in touch with relevant online communities.
A company that has useful knowledge to offer its website visitors – for instance, teaching them how to speed up PC performance – could also fare well in Best in Biz competitions. Additionally, any brand that diligently strives to meet ever-changing industry demands will set itself apart from the large pool of high-qualified entrants.
Now that Boost Software has made it this far, now what? Amit Mehta said he has big plans for the future.
"I want to build a respected brand that is recognized around the world," says Mehta.
He also stated the achievement he's most proud of right now is all the hard work and dedication to excellence.
"We left no stone unturned concerning the development of PC HealthBoost. We tested and tested. . . and then tested again."
Boost Software, a company started in 2009, became a corporation in 2011. Since its inception, Co-Founders Amit Mehta and Peter Dunbar committed over $500,000 to make sure PC HealthBoost™ becomes the best registry cleaner on the market.