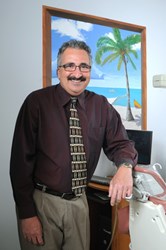 Monroe, CT (PRWEB) October 01, 2013
Monroe Periodontist Dr. Richard Amato now offers patients All-on-4 implant supported dentures, which are dentures anchored to just four dental implants. This procedure offers many of the benefits of individual implants, including stabilization of teeth and bone density. With 26 percent of people over the age of 74 lacking any permanent teeth, according to recent studies, there are many people who can benefit from both the cosmetic and health effects of All-on-4.
All-on-4 offers lower costs than traditional dental implants while making the best use of the bone density patients still have. Typically, a bone graft is not required. Patients who have lost their teeth, and the bone stimulation provided by the roots of those teeth, can see dramatic jaw bone loss in just a year. All-on-4 provides a solution for these patients. Since implants can stimulate the jaw bone and prevent further loss of bone density, it is crucial that patients do not delay receiving implants.
Aside from stable bone density, patients who receive All-on-4 will enjoy many obvious, immediate benefits. Patients will find that the All-on-4 dental implants are more convenient than traditional dentures because they are stable, do not have to be removed or do not have diet restrictions. All-on-4 tooth replacements are easy to clean and care for, and they give patients a new look in just a day.
The All-on-4 implant procedure begins with Dr. Amato evaluating where jaw bone density is highest, to determine where the implants should be placed. After placement, a temporary set of teeth are attached to the dental implants. Over the course of three or four months, the root of the implant fuses with the jaw bone. Once this process is complete, the temporary teeth can be removed, and a permanent set of teeth are made and attached to the implants.
All-on-4 has proven its success for over 10 years, with a four-year success rate of 98.5 percent. Patients who have lost their permanent teeth should strongly consider seeing Monroe periodontist Dr. Amato for All-on-4 implant dentistry. Patients can visit Dr. Amato's website or call his office to learn more about the procedure.
About the Doctor
Dr. Richard Amato is a periodontist and dental implant specialist who provides the most advanced technology for his patients in Monroe, Connecticut. He has placed thousands of dental implants since 1989. Dr. Amato graduated first in his class with a DDS degree from Stony Brook University. Dr. Amato then completed a full time multi-year specialty residency and received his Certificate of Proficiency in Periodontics from Eastman Dental Center at the University of Rochester. He is part of one percent of dentists in the USA providing the most advanced FDA cleared laser procedure for gum disease treatment. Dr. Amato is the first and most experienced dentist to provide LANAP therapy in Fairfield County Connecticut. To learn more about Dr. Amato and his dental services visit his website at http://www.connecticutperiodontist.com and call (203) 712-0917.