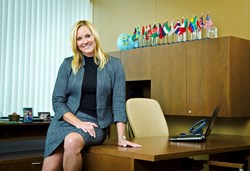 It is inspiring to listen to the stories of so many accomplished women who are making such important contributions to their communities or profession. I felt privileged to be listed among them
Rochester Hills, MI (PRWEB) October 03, 2013
The Fourth Annual Esteemed Women of Michigan luncheon was held on September 30, 2013 at the Royal Park Hotel in Rochester. The luncheon was a benefit for the Gary Burnstein Community Health Clinic of Pontiac. The clinic has provided free medical, dental and pharmaceutical services to Oakland County citizens who are uninsured or underinsured since 1997.
Blaker was delighted to be honored at this event stating, "It is inspiring to listen to the stories of so many accomplished women who are making such important contributions to their communities or profession. I felt privileged to be listed among them."
Close to 30 women were honored at this year's event including; US Attorney, Eastern District of Michigan Barbara McQuade, United States Senator Debbie Stabenow, State Representative Rashida Tlaib, Detroit Free Press Columnist Rochelle Riley, and President/CEO of Walsh College Stephanie Bergeron.
Lori Blaker has received numerous recognitions recently. As the head of one of the fastest growing women-led organizations in North America, her leadership skills continue to be lauded by the business community. In 2012 President/CEO Lori Blaker received the "Leader of Leaders" Award from Leadership Oakland. Under her leadership, TTi Global has ranked consistently among the "Top 25 Woman-Run Businesses in the USA" as recognized by the Women's Business Enterprise National Council.
#####
TTi Global provides staffing, learning, research and consulting solutions to industries across various sectors with automotive as a core focus. TTi Global oversees operations on five continents with offices spanning the globe, which include Australia, Brazil, Canada, Chile, China, India, Japan, Mexico, Peru, South Africa, Thailand, Venezuela, UK and most recently Afghanistan.
With a staff of over 2000 employees in international operations, they offer a wide range of services, tailor made to drive business goals, including business consulting, research, staffing, workforce development and learning solutions. TTi Global world headquarters are located in Rochester Hills, Michigan.